Learn shibari, not just patterns
There's a new and different way to understand shibari and learn to tie creatively with real connection.
It's our ingredients-based method.
And it's very different from the usual tutorials because it makes learning easy, by teaching you how simple ingredients are used, rather than just confronting you with a bewildering selection of ties. And as you'll see, it will make seemingly complex ties very intuitive, enable you to tie more safely and accelerate your learning.
Best part of all, our structured approach means you won't be left wondering where to start or need to study for years to have a profound effect on your partner. And you can do this regardless of whether you have ever tied before, even with a single rope.
So, if you want to understand shibari and learn to tie creatively with real connection, this is the course for you.
Connect deeply with your partner


Most tutorials teach patterns but not how to communicate with rope, which is the essence of shibari. Consequently, you might be disappointed that your efforts don't produce the desired effect on your partner. Like good sex, it is more about how you do it than what you do.
We will help you become fluent in the language of rope which will allow you to connect effectively with your partner. You will be amazed how this will change your mindset and transform your rope sessions.
Connection is simple
Despite usually only being taught in advanced workshops, tying connectively can be very simple. In this course, you will learn the methods that can be applied from day one to maximise the effect of your tying with even the most basic ropework.
Many of these techniques will also improve your flow and speed by allowing you to work efficiently. Smooth, confident tying creates trust by demonstrating competence and exudes dominance, unlike inexpert fumbling.
If you have never experienced a tutorial of this sort, you probably have no idea what you and you partner are missing.
Shibari is easy
At first sight, shibari can look complicated and you can feel daunted by the number of steps in some ties. The good news is that there's an easy way.
While learning the old way, which involved endless repetitions of ties with dozens of steps, I thought "There must be an easier way". Eventually, I realised that I was repeating the same components but without really understanding why. I felt a bit like the novice in Karate Kid enduring seemingly unrelated chores.
The lightbulb moment was seeing knots, frictions and wraps as ingredients from which every tie was made. Like cooking, understanding your ingredients and how to use them is key to success. So it is with shibari.
This approach means you can tie more creatively, safely and adapt to the situation and your partner's body.
Making sense of the maze
There are so many ways to learn. It's confusing so where do you start? Books can teach patterns but fall short on teaching the nuances. You need to see it done. Videos might show you more but where do you start? Will you learn more than a pattern? If you go to a workshop, Is the teacher competent to teach you good technique?
This course offers a solution. We have structured route to guide you from the basics like selecting rope, safety and negotiating consent to mastering deeply connective creative shibari.
Our tutorials are based on over 30 years of combined experience and tuition by Japan's most acclaimed masters. Thus, you are guaranteed first class instruction.
Our videos are shot in HD with two cameras so you will be sure to catch every detail in the close-up shots where it really matters. In addition, there are also written notes where extra clarification is needed and the opportunity to interact directly with Nina and I to answer your questions.
This is how we make shibari simple
This clip is from one of the included tutorials, 'Simple to Complex'. It gives an example of what we mean by our ingredients-based approach to making shibari easy and logical to learn.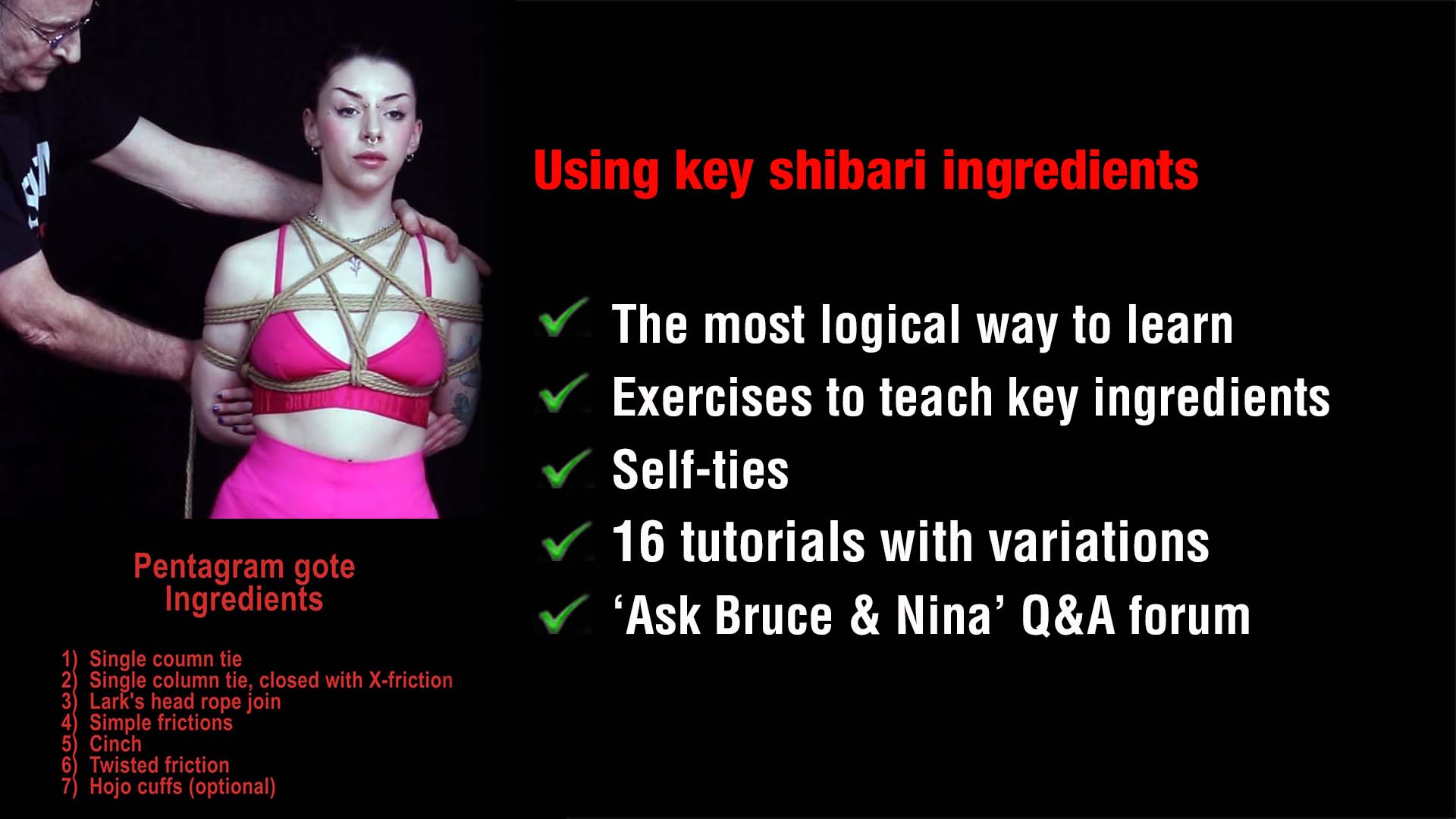 We have just added a further 16 tutorials which further enhance our ingredient-based approach. These tutorials will help you better understand the key ingredients of shibari making it very easy and logical, whilst developing your creativityy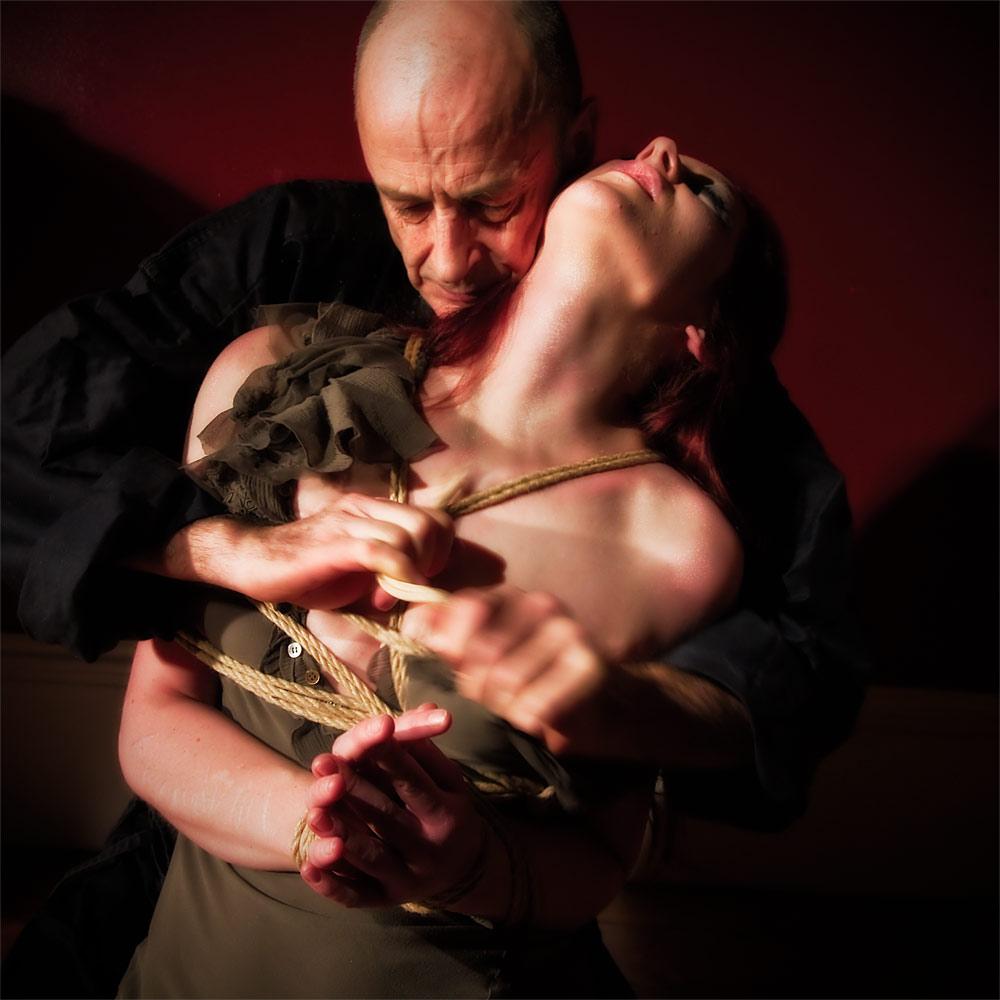 " I have just in fact gone 'back to the start' as it were and purchased the "Shibari: The Easy Way" course and it comes as no surprise to find that even after 5 years of tying, there was still a whole heap of information and ideas that opened up new avenues of exploration for me. So again, thank you to both yourself and to Nina too." - Matt P
"I completed the course and loved how well the reasoning behind each movement was explained, rope efficiency and how the energy is transmitted through the rope. It's IMPRESSIVE!!! I can't wait to complete the next 2 courses for the same subject and soon ALL the courses" - Myself
"Hi. Very impressed with the intimate, subtle, and intellectual approach I've found with this course; I am more than pleasantly surprised. I'm greatly looking forward to immersing myself in this truly wonderful way to bond with people and developing a sense true touch and fluid proficiency." - Ellis Wood
Mega-Bundle Contents
This bundles includes all the course listed below for one low monthly subscription
Frequently asked questions
Can I get a refund if I'm unhappy with my purchase?


We would never want you to be unhappy! If you are unsatisfied with your purchase, contact us in the first 7 days and we will give you a full refund.
When does the course start and finish?


The course starts now and runs for a whole month! It is a completely self-paced online course - you decide how fast you go and how much you revise. Subscriptions renew automatically until cancelled.
How long do I have access to the course?
How does a whole month 24/7 sound? After enrolling, you have unlimited access to this course for as long as you like until you cancel - across any and all devices you own.