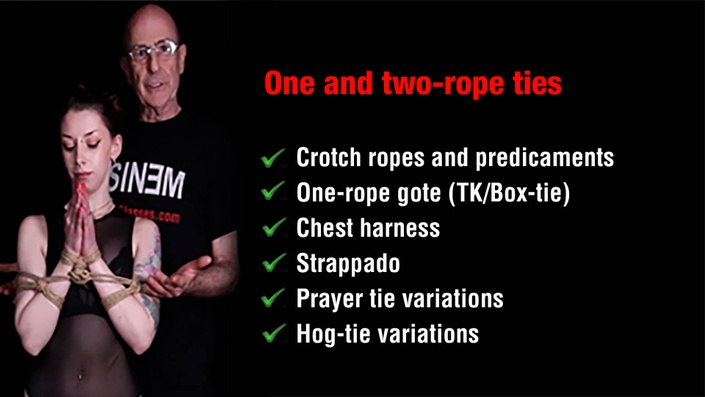 One and two-rope ties
Some simple ties to help you learn and use ingredients to make your own shibari 'recipes'
Learn shibari, not just patterns
Whilst this course has a variety of easy ties using only one or two ropes, you will learn much more than these 'recipes'. You will learn how to use the few simple ingredients that are used in almost every tie. Once you understand how they are used, and how they can be varied, you will suddenly discover that the only limit is your imagination. Not only will find learning ties becomes logical but you will also become creative and more able to react to your partners needs in the moment. As the old adage goes: "Give a man a fish and you feed him for a day; teach a man to fish and you feed him for a lifetime".
Keeping it simple to make sense
To make it simple, we keep it simple. All you will need to build these important skills is two ropes. You will learn how to build all of these ties with only single and double column ties, plus a couple of frictions. We not only show you a selection of ties but also how you can vary ingredients to change the look but retain the same function.
You will see how components, or modules, can be used to build more sophisticated ties. For example, the one-rope gote and strappado are used to build the two versions of the hog-tie that appear later in the course. As you progress, this knowledge will make more complex ties easier and quicker to learn because the components will be familiar. Two-rope gote (2-TK)? That's mostly a one-rope version plus a single column tie finished with a friction, rather than a knot.
It's all in how you do it
One of the main things that is often overlooked in tutorials is the rope handing. Like any skill that requires artistry, proper methodology is essential. Remember when you painted as a child with a brush clasped in your fist? Well, holding and manipulating the rope is just as vital if you don't want create the equivalent of your childhood daubs. Proper handling instils confidence, shows dominance and allows you to express yourself effectively. These tutorials will help you make these skills second nature.
Your Instructor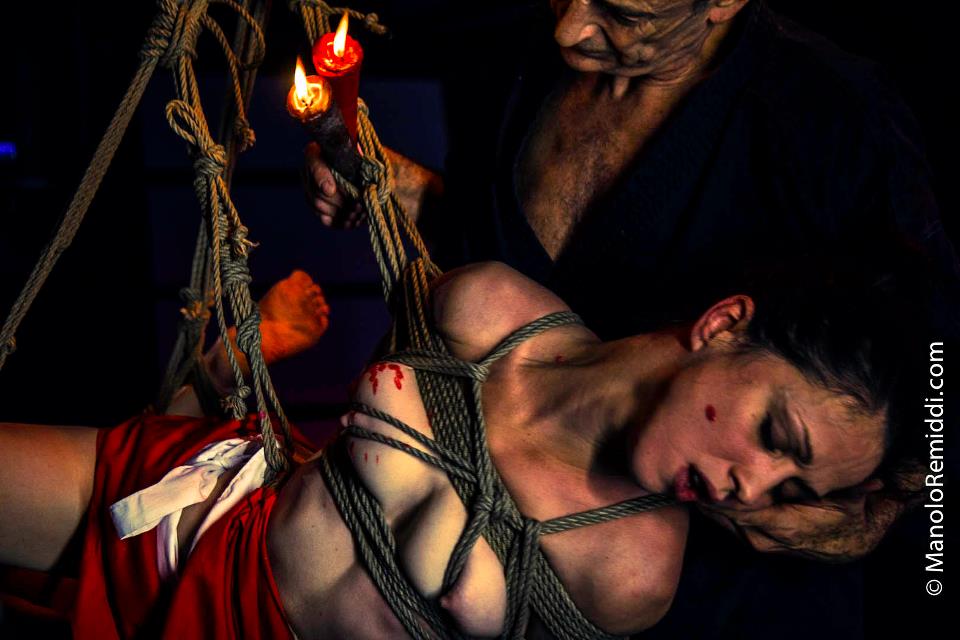 Esinem is a shibari artist who has regularly appeared at UK and international events such as Pride, Torture Garden, Erotica, Rubber Ball, Wasteland, Boundcon, Nuit Demonia and recently represented the UK at Japan's first international kinbaku event, Toubaku. He is also known for his teaching both in the UK and internationally and was co-organiser of the London Festival of the Art of Japanese Bondage and BOUND, Europe's premier monthly shibari event.

Over the last few years, he has been improving his skills in Japan with the help some of their best known and respected kinbakushi, Arisue Go, Osada Steve, Kinoko Hajime, Kazami Ranki and, grand master of newaza, Yukimura Haruki. Whilst drawing from classical methods, his style is distinctive and epitomizes the art of communicating with rope, often departing from the typical serenity of shibari shows and flying in the face of tradition to produce some striking and unusual performances.

In addition, he has worked on various videos, e.g. Primal Scream's 2013, artistic collaborations and photo shoots both on and off camera. He has been involved in projects providing inspiration for Tom Ford's 2013 collection and, Raqib Shaw, an acclaimed artist who has exhibited at the Tate, Metropolitan and White Cube galleries.

He contributed to Rope, Bondage & Power, edited by Lee Harrington and is currently involved with a number of documentaries on kinbaku. He is also author of the first English language tutorial DVDs: 'Japanese Rope Bondage: Tying people, not parcels'.


Nina Russ is a London based, shibari performer, rope artist and educator. She became student of Esinem in 2011 and their collaboration gave birth to BOUND shibari night (2012) and ShibariClasses (2015). She had also the fortune to participate at workshops with different Japanese shibari masters, like: Kazami Ranki, Yukimura Haruki, Kinoko Hajime.

She has performed internationally, most notably at the London Festival of the Art of Japanese Rope Bondage and RopeFest in St.Petersburg. In addition, she participates in numerous artistic, fashion collaborations and local performances. Her passion for rope has lead her on a route of discovery of concepts, philosophy, aesthetics and benefits behind this Japanese discipline.

She sees shibari as an art form which creates deep connection between the participants and also aids personal development. Due to its martial arts roots, it brings self-discipline, efficiency, effectiveness and, thus, growth in confidence and awareness. She believes these skills allow a greater focus on the most important aspects: you, your partner and your shared experience.
Frequently Asked Questions
When does the course start and finish?
The course starts now and never ends! It is a completely self-paced online course - you decide when you start and when you finish.
How long do I have access to the course?
How does lifetime access sound? After enrolling, you have unlimited access to this course for as long as you like - across any and all devices you own.
What if I am unhappy with the course?
We would never want you to be unhappy! If you are unsatisfied with your purchase, contact us in the first 30 days and we will give you a full refund.