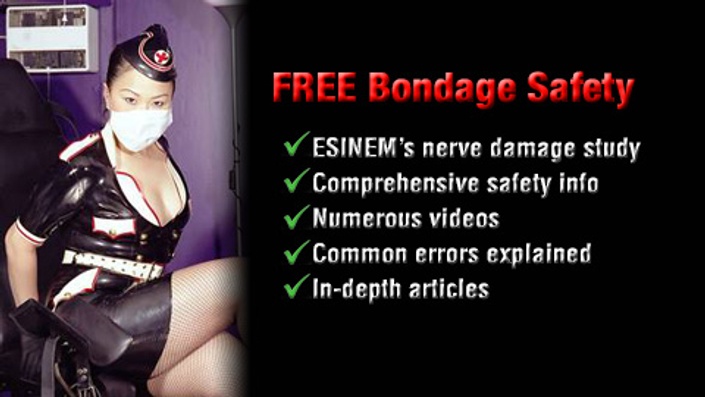 FREE! Bondage Safety
An excerpt from 'Japanese Rope Bondage: Tying people, not parcels'
This is a free tutorial, taken from 'Japanese Rope Bondage: Tying people, not parcels' which contains essential information for anyone engaging in any style of rope bondage. It is the result of a lot of research which has been checked by a number of very highly qualified medical professionals, thoroughly peer-reviewed and drawn from respected sources. That said, there is no medical specialisation or research into bondage related injuries, so there is inevitably some speculation and our knowledge is constantly improving. For these reason, your comments and input are encouraged.
In addition to articles on the various hazards and vulnerabilities, specific common mistakes are high-lighted so you don't have to repeat them. There is a lot of information, but please take the time to absorb the key points. This is particularly important if you are suspending and a good understanding nerve vulnerabilities is paramount. Bear in mind that we are all different and your partner's nerve paths will be unique.
If you aren't certain of the answers to these questions, you need to study this tutorial:
When must you ignore the 'two-finger' rule?
What is the biggest killer?
How can minding 'the gap' cause more problems than it prevents?
What nerve is at risk from a hip harness?
How reliable is testing grip to assess nerve compression?
Can you find your partner's radial nerve?
As I am keen to help everyone stay safe, please feel free to circulate the link to this tutorial.
Your Instructor
Esinem is a shibari artist who has regularly appeared at UK and international events such as Pride, Torture Garden, Erotica, Rubber Ball, Wasteland, Boundcon, Nuit Demonia and recently represented the UK at Japan's first international kinbaku event, Toubaku. He is also known for his teaching both in the UK and internationally and was co-organiser of the London Festival of the Art of Japanese Bondage and BOUND, Europe's premier monthly shibari event.
Over the years, he has been improving his skills with the help some of their best known and respected Jpanese kinbakushi, Arisue Go, Osada Steve, Kinoko Hajime, Kazami Ranki and, grand master of newaza, Yukimura Haruki. Whilst drawing from classical methods, his style is distinctive and epitomizes the art of communicating with rope, often departing from the typical serenity of shibari shows and flying in the face of tradition to produce some striking and unusual performances.
In addition, he has worked on various videos, e.g. Primal Scream's 2013, artistic collaborations and photo shoots both on and off camera. He has been involved in projects providing inspiration for Tom Ford's 2013 collection and, Raqib Shaw, an acclaimed artist who has exhibited at the Tate, Metropolitan and White Cube galleries.
He contributed to Rope, Bondage & Power, edited by Lee Harrington and has been involved with a number of documentaries on kinbaku. He is also author of the first English language tutorial DVDs: 'Japanese Rope Bondage: Tying people, not parcels' .
Frequently Asked Questions
When does the course start and finish?
The course starts when you enroll and runs for one year. It is a completely self-paced online tutorial - you decide when you start and when you finish.
How long do I have access to the course?
How does a whole year's access sound? After enrolling, you have unlimited access to this course giving you plenty of time to absorb it and return for revision - across any and all devices you own where ever you are. You can renew as many times as you like.
Is it really free?
Completely. There's no catch, you won't be asked for payment information or charged one single cent. I believe that safety information should be freely available and shared, so please circulate and post the link.