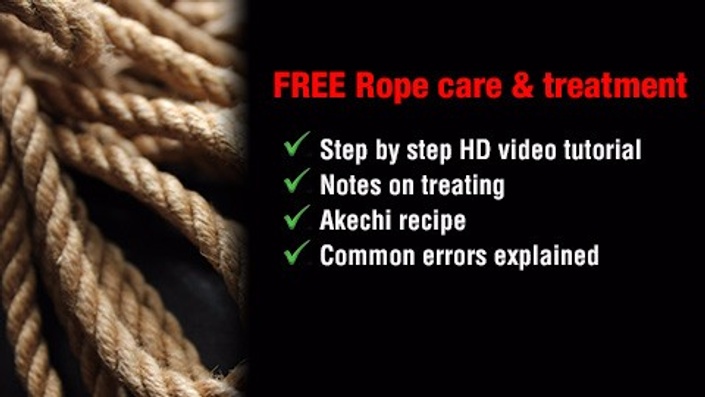 FREE! How to treat and care for bondage rope
Some ways to improve and maintain your rope
I'm always being asked how to treat rope and frequently see forum posts from people who have made classic mistakes which ruined an expensive purchase. It can be surprising how much difference the right treatment makes. It can often turn a disappointing rope into a joy. improves the look, the feel and the way it handles.
Your Instructor
Esinem is a Japanese style bondage (shibari/kinbaku) artist who regularly appears at UK and international events. These have included Pride, Torture Garden, Erotica, Rubber Ball, Wasteland, Boundcon, Nuit Demonia and represented the UK at Japan's first international kinbaku event, Toubaku. He is also known for his teaching both in the UK and internationally and as co-organiser of the London Festival of the Art of Japanese Bondage and BOUND, Europe's premier monthly shibari event.

Over the years, he has been improving his skills in Japan with the help some of their best known and respected kinbakushi, Arisue Go, Osada Steve, Kinoko Hajime, Kazami Ranki and, the late grand master of newaza, Yukimura Haruki. Whilst drawing from classical methods, his style is distinctive and epitomizes the art of communicating with rope, often departing from the typical serenity of shibari shows and flying in the face of tradition to produce some striking and unusual performances.

In addition, he has worked on various videos, e.g. Primal Scream's 2013, artistic collaborations and photo shoots both on and off camera. He has been involved in projects providing inspiration for Tom Ford's 2013 collection and, Raqib Shaw, an acclaimed artist who has exhibited at the Tate, Metropolitan and White Cube galleries.
He contributed to Rope, Bondage & Power, edited by Lee Harrington and been involved with a number of documentaries on kinbaku on various international TV channels. He is also author of the first English language tutorial DVDs: 'Japanese Rope Bondage: Tying people, not parcels' .
Course Curriculum
How to treat and care for bondage rope
Available in days
days after you enroll
We hope this information will be helpful. Please be sure to check out our other tutorials and we hope to see you join them.
Regards
Bruce & Nina