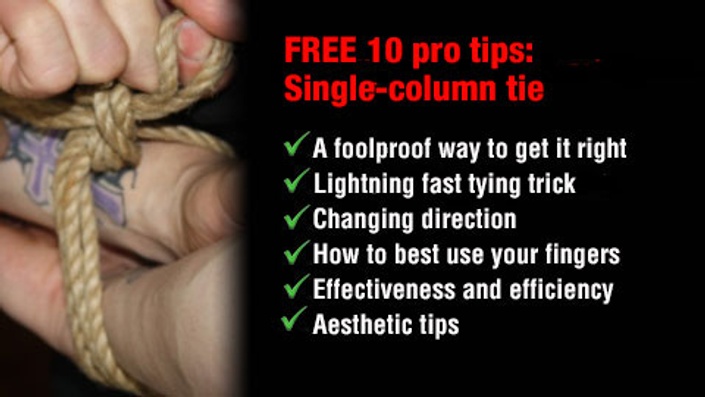 FREE 10 Pro tips: Single-column tie
The things you didn't know you didn't know (con subtítulos en español)
10 tips for the single column tie: What you didn't know you didn't know
The single column tie is the basic building block of shibari and seems very simple. However, there are many ways to get it wrong and quite a few tricks to getting it right with optimum efficiency.
It is also likely to be the first tie that you apply, in one form or another, to start your rope session. This means it is the most important tie as it is the one that will create the initial impression and set the mood. Get it right and you will exude dominance, proficiency and efficiency. Fumble it at at your peril! As with everything in shibari, the important thing is how you do it.
Tying up versus tying down: When you need to make your wraps upwards and when you make the downwards makes a difference.
A rule to get the knot right every time: Can't work out why you sometimes end up with the less efficient reef knot and it collapses? Here's an easy way to always get it right.
Avoiding changing hands for greater efficiency: Wondering why some people tie faster, yet it seems to effortless?
The trick to closing the knot: You formed the knot in the correct way but it stills doesn't work properly?
How not to get twisted wraps: Are your wraps twisting in spite of doing the right knot? Here's why.
Finger, don't fist: Working elegantly and effortlessy in tight spaces.
Don't push, pull: It sounds obvious but you'd be suprised how often people forget.
A change of direction: So, what if you want to change the direction the rope wants to go?
Being a better wrapper: Another easy way to make flat, evenly tensioned wraps.
A lightning fast way to tie the knot: My pro tip for tying wrists for a gote (aka TK or box-tie)
As with all our tutorials, this goes into far more depth than the usual basic 'How To' videos. You will learn about efficiency and effectivenss and also the 'why behind the tie'.

Ahora con subtítulos en español con agradecimiento a Pol Ropes.

Your Instructor
Esinem is a shibari artist who has regularly appeared at UK and international events such as Pride, Torture Garden, Erotica, Rubber Ball, Wasteland, Boundcon, Nuit Demonia and recently represented the UK at Japan's first international kinbaku event, Toubaku. He is also known for his teaching both in the UK and internationally and was co-organiser of the London Festival of the Art of Japanese Bondage and BOUND, Europe's premier monthly shibari event.
Over the years, he has been improving his skills with the help some of their best known and respected Jpanese kinbakushi, Arisue Go, Osada Steve, Kinoko Hajime, Kazami Ranki and, grand master of newaza, Yukimura Haruki. Whilst drawing from classical methods, his style is distinctive and epitomizes the art of communicating with rope, often departing from the typical serenity of shibari shows and flying in the face of tradition to produce some striking and unusual performances.
In addition, he has worked on various videos, e.g. Primal Scream's 2013, artistic collaborations and photo shoots both on and off camera. He has been involved in projects providing inspiration for Tom Ford's 2013 collection and, Raqib Shaw, an acclaimed artist who has exhibited at the Tate, Metropolitan and White Cube galleries.
He contributed to Rope, Bondage & Power, edited by Lee Harrington and has been involved with a number of documentaries on kinbaku. He is also author of the first English language tutorial DVDs: 'Japanese Rope Bondage: Tying people, not parcels' .
Course Curriculum
10 tips for the single column tie
Available in days
days after you enroll
Frequently Asked Questions
When does the course start and finish?
The course starts now and never ends! It is a completely free self-paced online course - you decide when you start and when you finish.
How long do I have access to the course?
How does lifetime access sound? After enrolling, you have unlimited free access to this course for as long as you like - across any and all devices you own.