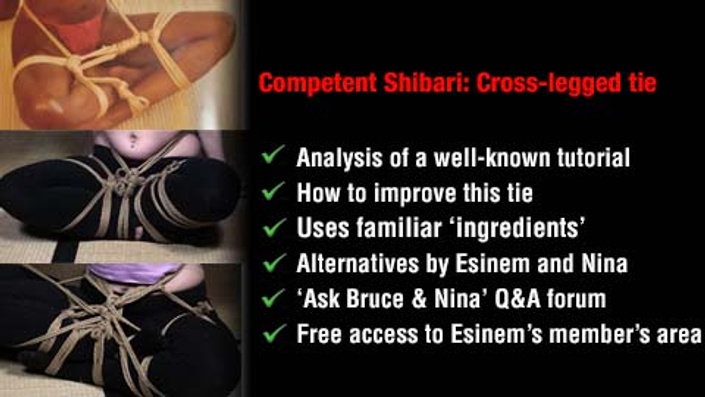 Competent shibari: Cross-legged tie
An analysis of a well-known tutorial with our improved, suspension capable versions
Watch Promo
Competent Shibari
In this tutorial, we first tie and analyse a cross-legged tie from a well-known shibari manual. We then go on to create our own versions to overcome the perceived deficiencies in effectiveness and aesthetics.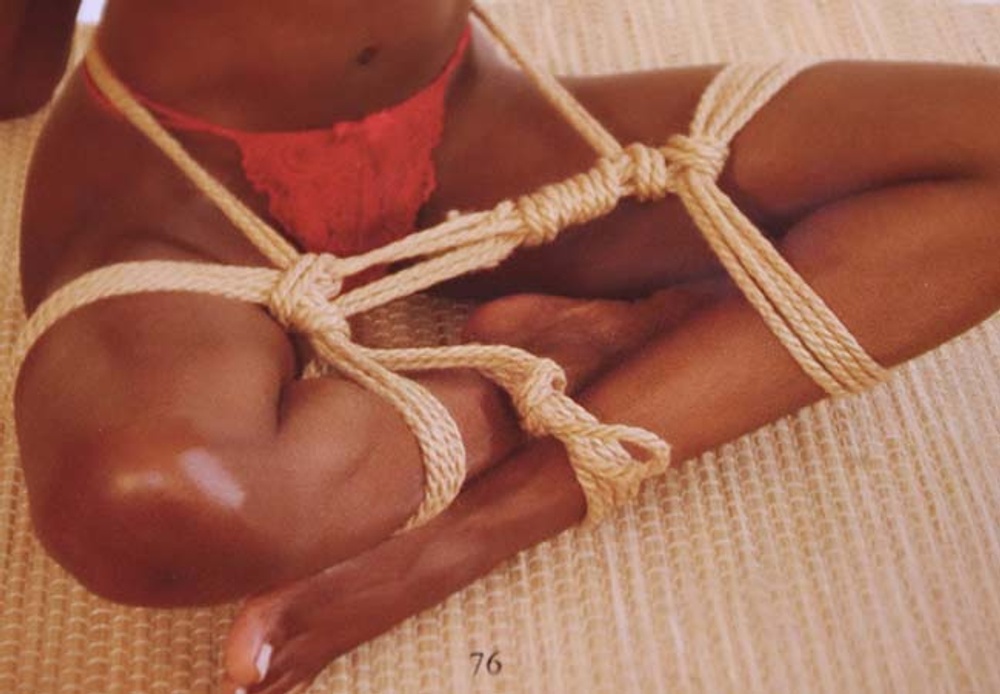 In shibari, most ties are created to enforce a position, be it exposure or constriction. A cross-legged tie has the potential for both and, if properly constructed, a solid base for suspension. It should also be beautiful and flatter the person in the rope. In our opinion, the first example fulfils none of the above criteria as will become apparent in the video. As I always like to put it, usually in reference to takate-kote ties (TK/gote/box-tie): "It's not enough to look like a plane, it needs to fly like one too". Correct engineering is not to be ignored. The original example fails in the engineering making the tie very unrestrictive. We will demonstrate how to easily overcome this and point out how the ingredients should be properly used.

Getting it right
In the second and third videos, Nina and I create our own versions to address the issues in the original. Despite the initial impression of complexity, they were constructed using only simple ingredients that you already know: Single column tie, double column tie and a few frictions. Pay attention to how we use these ingredients to create structure and solutions.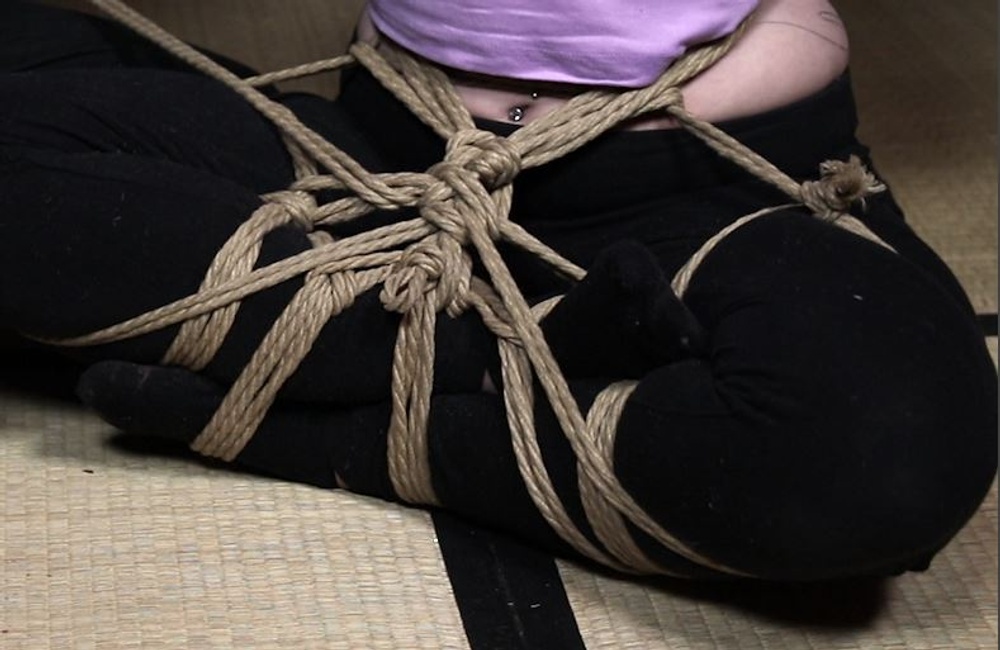 We devised our versions after only a brief practice and, in the video, departed in some details from those originals. The ability to tie on the fly will become second nature to you if you understand the ingredients and follow the rules for their use.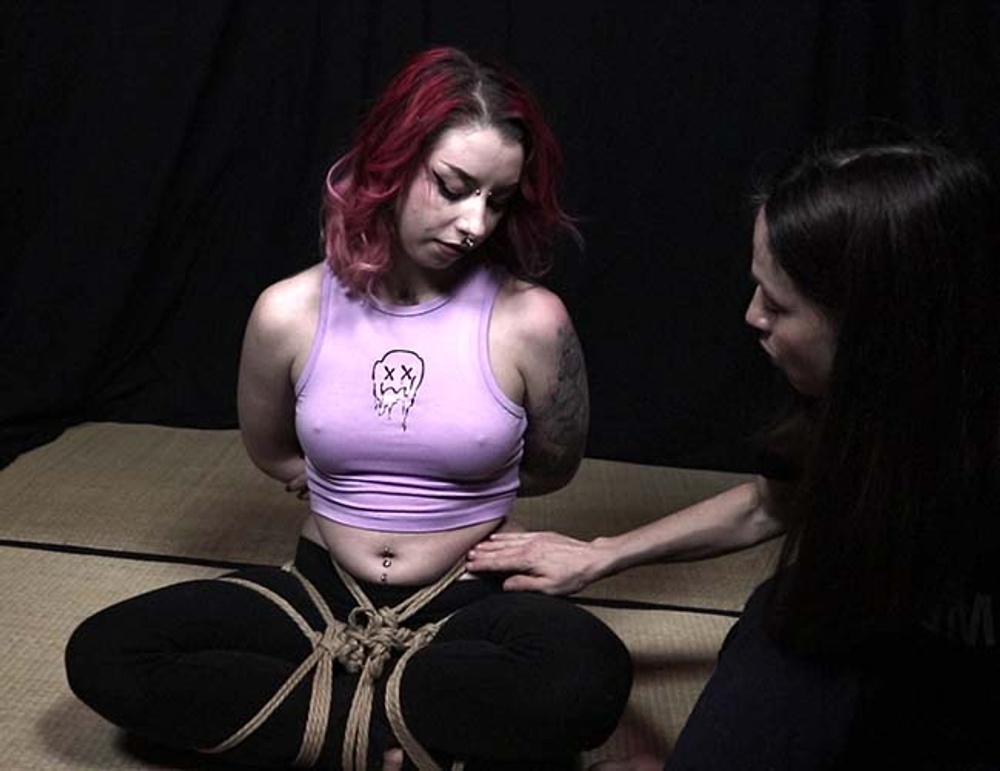 A method, not just a recipe
These tutorials are far more than just a step by step guide. Try not to simply treat these as recipes to be followed faithfully, vary the ingredients and how you use them. Of course, you can replicate the ties and by doing so will help build your skills. Once you have become comfortable with our versions, experiment and get creative. You will learn how to use ingredients, and the rules for their use, to confidently create your own effective, efficient, functional ties.
Your Instructor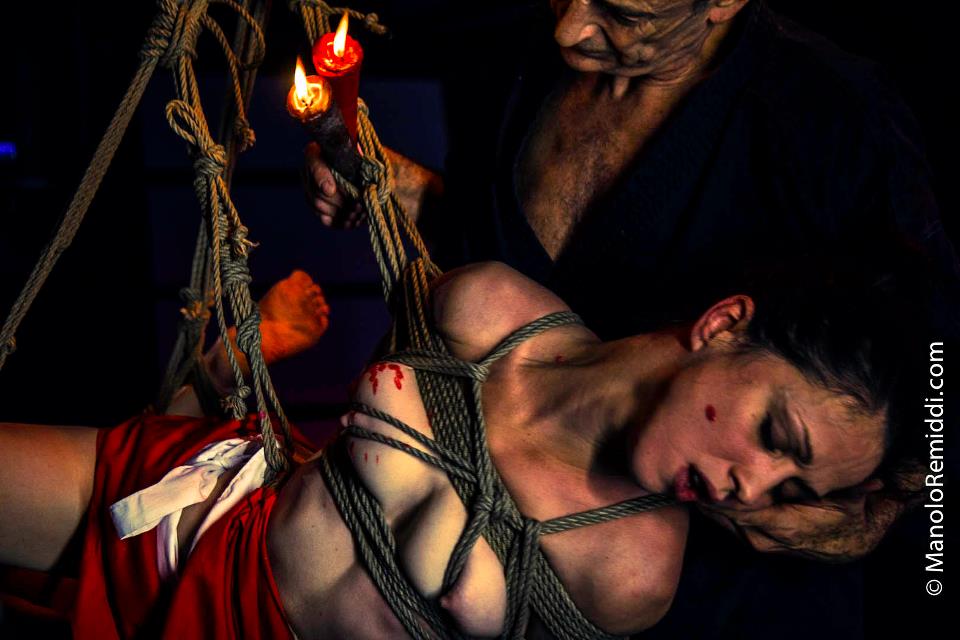 Esinem is a shibari artist who has regularly appeared at UK and international events such as Pride, Torture Garden, Erotica, Rubber Ball, Wasteland, Boundcon, Nuit Demonia and recently represented the UK at Japan's first international kinbaku event, Toubaku. He is also known for his teaching both in the UK and internationally and was co-organiser of the London Festival of the Art of Japanese Bondage and BOUND, Europe's premier monthly shibari event.

Over the last few years, he has been improving his skills in Japan with the help some of their best known and respected kinbakushi, Arisue Go, Osada Steve, Kinoko Hajime, Kazami Ranki and, grand master of newaza, Yukimura Haruki. Whilst drawing from classical methods, his style is distinctive and epitomizes the art of communicating with rope, often departing from the typical serenity of shibari shows and flying in the face of tradition to produce some striking and unusual performances.

In addition, he has worked on various videos, e.g. Primal Scream's 2013, artistic collaborations and photo shoots both on and off camera. He has been involved in projects providing inspiration for Tom Ford's 2013 collection and, Raqib Shaw, an acclaimed artist who has exhibited at the Tate, Metropolitan and White Cube galleries.

He contributed to Rope, Bondage & Power, edited by Lee Harrington and is currently involved with a number of documentaries on kinbaku. He is also author of the first English language tutorial DVDs: 'Japanese Rope Bondage: Tying people, not parcels'.


Nina Russ is a London based, shibari performer, rope artist and educator. She became student of Esinem in 2011 and their collaboration gave birth to BOUND shibari night (2012) and ShibariClasses (2015). She had also the fortune to participate at workshops with different Japanese shibari masters, like: Kazami Ranki, Yukimura Haruki, Kinoko Hajime.

She has performed internationally, most notably at the London Festival of the Art of Japanese Rope Bondage and RopeFest in St.Petersburg. In addition, she participates in numerous artistic, fashion collaborations and local performances. Her passion for rope has lead her on a route of discovery of concepts, philosophy, aesthetics and benefits behind this Japanese discipline.

She sees shibari as an art form which creates deep connection between the participants and also aids personal development. Due to its martial arts roots, it brings self-discipline, efficiency, effectiveness and, thus, growth in confidence and awareness. She believes these skills allow a greater focus on the most important aspects: you, your partner and your shared experience.
Frequently Asked Questions
When does the course start and finish?
Monthly subscription: The course starts now and runs for a whole month! It is a completely self-paced online course - you decide how fast you go and how much you revise. Subscriptions renew automatically until cancelled. Purchase: The course starts now and never ends! It is a completely self-paced online course - you decide when you start and when you finish.
What if I am unhappy with the course?
We would never want you to be unhappy! If you are unsatisfied with your purchase, contact us in the first 7 days and we will give you a full refund.
Managing subscriptions
• For your convenience, subscriptions auto-renew at the end of the period
• You can unsubscribe via Manage Subscriptions on the Profile menu (top right when logged in)
• For instructions, see Help