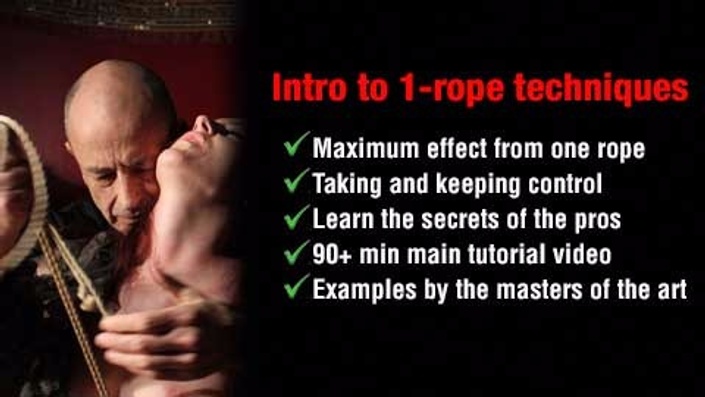 Introduction to one-rope techniques
Shibari is about making every rope count
This tutorial is a perfect introduction to shibari but will also be a great help to more experienced players wanting to explore one-rope techniques. I'm sticking with 'one-rope' as there is endless argument over the Japanese terms. 'Ippon nawa' is the technically correct literal translation, although 'ichinawa', an incorrect translation, seems to have been coined along the way. A rose by any other name doth smell as sweet but I'll stick with English
By using a single rope, we makes things simple but will also learn how to create the maximum effect. If you don't already know how powerful one rope used well can be, prepare to be surprised.
We start from the beginning by discussing the tools of the job, showing how to handle them properly, explaining the basic 'ingredients' needed to start creating 'rope recipes' and sharing a lot of pro tips learned directly from masters of the art like Osada Steve and Yukimura Haruki. Of course, having preached 'tying people, not parcels' since before most westerners had even heard of shibari, you will benefit from a wealth of experience.
In this course, we have taken a slightly different approach by working with a student and her model. A lot of you will recognise Bliss as a prolific shibari model who has been tied by some of the best. However, this lesson is her début into tying others, although she has done some self tying. There's no doubt that her experience as a model has taught her a lot about how experts communicate with rope. Her first attempt at a floor-work session is certainly demonstrates this. I am sure you'll learn some tricks from her.
You will gain an insight into our own special way of teaching ingredients, rather than the more common 'paint by numbers' recipe-based approach. We have found that this leads to a faster grasp of the principals of building ties and a greater ability to spot one's own mistakes, so tying more with more confidence to be creative. By developing the right habits and techniques day one, your rope will begin to have an immediate effect. Learning these skills later is much harder as you have to unlearn bad habits. It just wastes too much time and, most importantly, potential pleasure. We believe that every rope should make an impression and say something.

The video tutorials run to over 90 minutes following Bliss's journey of learning. There's very little edited from our class (except the likes of the blooper below), so typical beginner's mistakes and problems are covered in great detail with my corrections and advice. If you are thinking of coming for a private class, it will give you an idea of what to expect, except I can guarantee more input from Nina when she isn't busy being cameraman and director.
In addition, you'll find examples of one-rope sessions, resources for further studies and explanatory notes.
Your Instructor
Esinem is a Japanese style bondage (shibari/kinbaku) artist who regularly appears at UK and international events. These have included Pride, Torture Garden, Erotica, Rubber Ball, Wasteland, Boundcon, Nuit Demonia and represented the UK at Japan's first international kinbaku event, Toubaku. He is also known for his teaching both in the UK and internationally and as co-organiser of the London Festival of the Art of Japanese Bondage and BOUND, Europe's premier monthly shibari event.

Over the years, he has been improving his skills in Japan with the help some of their best known and respected kinbakushi, Arisue Go, Osada Steve, Kinoko Hajime, Kazami Ranki and, the late grand master of newaza, Yukimura Haruki. Whilst drawing from classical methods, his style is distinctive and epitomizes the art of communicating with rope, often departing from the typical serenity of shibari shows and flying in the face of tradition to produce some striking and unusual performances.

In addition, he has worked on various videos, e.g. Primal Scream's 2013, artistic collaborations and photo shoots both on and off camera. He has been involved in projects providing inspiration for Tom Ford's 2013 collection and, Raqib Shaw, an acclaimed artist who has exhibited at the Tate, Metropolitan and White Cube galleries.
He contributed to Rope, Bondage & Power, edited by Lee Harrington and been involved with a number of documentaries on kinbaku on various international TV channels. He is also author of the first English language tutorial DVDs: 'Japanese Rope Bondage: Tying people, not parcels' .
Course Curriculum
Additional material
Available in days
days after you enroll
Frequently Asked Questions
When does the course start and finish?
The course starts now and runs for a whole month! It is a completely self-paced online course - you decide how fast you go and how much you revise. Subscriptions renew automatically until cancelled.
How long do I have access to the course?
How does a whole month 24/7 sound? After enrolling, you have unlimited access to this course for as long as you like until you cancel - across any and all devices you own.
What if I am unhappy with the course?
We would never want you to be unhappy! If you are unsatisfied with your purchase, contact us in the first 7 days and we will give you a full refund.