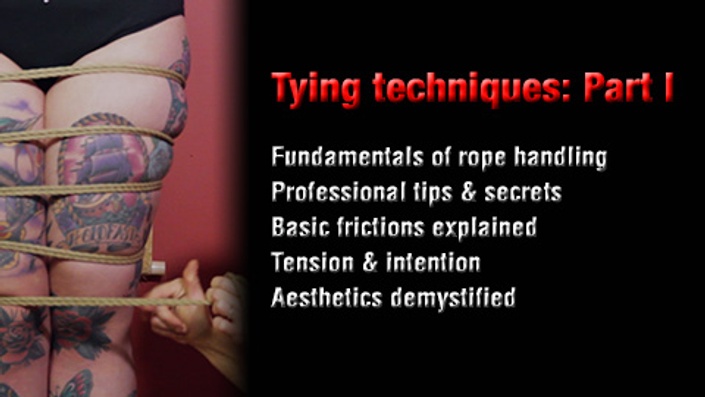 Tying techniques: Part I (con subtítulos en español)
It's not what you do, it's the way that you do it. That's what gets results.
Watch Promo
One thing many of you have asked for is more on technique, rather than 'paint by numbers' instructions for ties, so here it is. There's a massive difference between simply going through the steps and being able to tie proficiently, creatively and with feeling. This requires technique and faultless rope handling. It is no different from sex in requiring confident competence. Yes, one could follow a set of instructions in a sex manual…5-10 minutes of X, followed by 10-25 of Y…you get the picture, not very sexy. As I always say, it's not what you do but all about how you do it. Without the right skills, you might follow the steps but with all the lack of finesse of a fumbling virgin. Skill is why masters like Yukimura can achieve all they want with so little rope and what often appear to be unspectacular simple ties.
Nina and I are fortunate to have learned some of Yukimura's and other sensei's skills first hand. Using our combined knowledge, we have produced the first in a series on rope handling and technique. Whilst aimed at beginners, I'm certain that even experienced riggers will get something from it. In addition to our practical experience, Nina has carefully analysed video of many top nawashi, watching some 20 or more times, and has 'stolen' skills that have surprised me in spite of all the years I have been tying and what I thought I knew. Of course, you could work it out for yourself but it's taken us 20 combined years, numerous tuition sessions with Japanese masters and 1,000's of ties to get this far. In this series, we will share what we have learned and unlock the secrets of another level of tying.
In Part I, Nina covers wrapping, how to maintain tension, simple frictions, aesthetic considerations and efficient rope handling. These skills are the foundations upon which everything else is built. Without these fundamentals, you are building on sand and will tie slowly and clumsily. Once you understand how the tools are used properly and the capabilities of the components, these can easily be applied creatively so you are no longer limited to 'set pieces'. This is the start of self-expression with rope and, to us, what shibari is all about.

Ahora con subtítulos en español con agradecimiento a Pol Ropes.

Your Instructor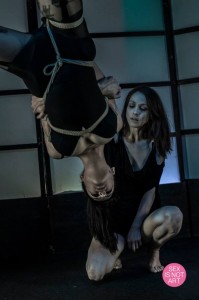 Nina Russ
Nina Russ is a London based, shibari performer, rope artist and educator. She became student of Esinem in 2011 and their collaboration gave birth to BOUND shibari night (2012) and ShibariClasses (2015). She had also the fortune to participate at workshops with different Japanese shibari masters, like: Kazami Ranki, Yukimura Haruki, Kinoko Hajime.

She has performed internationally, most notably at the London Festival of the Art of Japanese Rope Bondage and RopeFest in St.Petersburg. In addition, she participates in numerous artistic, fashion collaborations and local performances. Her passion for rope has lead her on a route of discovery of concepts, philosophy, aesthetics and benefits behind this Japanese discipline.

She sees shibari as an art form which creates deep connection between the participants and also aids personal development. Due to its martial arts roots, it brings self-discipline, efficiency, effectiveness and, thus, growth in confidence and awareness. She believes these skills allow a greater focus on the most important aspects: you, your partner and your shared experience.

Rope is simply a means of communication. She wants you to discover through her tying, the language of rope, which speaks directly to the mind and body.
Frequently Asked Questions
When does the course start and finish?
The course starts now and runs for a whole month! It is a completely self-paced online course - you decide how fast you go and how much you revise. Subscriptions renew automatically until cancelled.
How long do I have access to the course?
How does a whole month 24/7 sound? After enrolling, you have unlimited access to this course for as long as you like until you cancel - across any and all devices you own.
What if I am unhappy with the course?
We would never want you to be unhappy! If you are unsatisfied with your purchase, contact us in the first 7 days and we will give you a full refund.