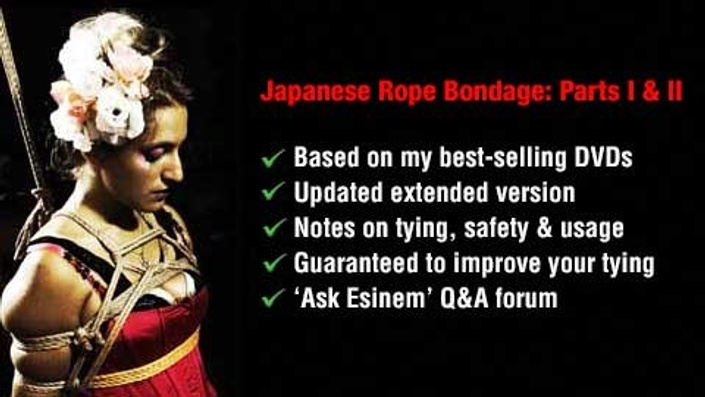 Japanese Rope Bondage: Tying people, not parcels: Parts I & II
The most comprehensive shibari course available
What you will learn here

This course is a comprehensive set of tutorials in Japanese bondage (aka shibari) techniques based on my best-selling DVD's 'Japanese Rope Bondage: Tying people, not parcels' Not only will it guide you every step of the way in learning to tie but it also reveals how to take this art beyond 'just tying' into the passionate 'dance' with rope that is the essence of shibari. You will gain a whole new perspective as you discover the language of rope and its power as a tool of erotic communication. This approach will change the way you tie, regardless of whether you are a beginner or already know the ropes.

Who is this for?

Anyone with an interest in bondage, whether it be merely for restraint games, intense connection or artistic purposes. Japanese style bondage (aka shibari or kinbaku) might seem complex, but it is easily learned using my methods. Whilst there are some theoretical topics, the bondage classes are very much hands-on. I have developed a methodology for teaching bondage to simplify and accelerate the learning process, whilst encouraging your own style and creativity.

Many people think learning shibari requires an extensive knowledge of knots. There is much more to it than simply a means of restraint, it has the power to create a very intense form of communication. It is as much about what you do as how you do it. This is not something that cannot easily be learned through books or the internet. In this course, I explain the nuances, distilled from well over a thousand of sessions, that turn it into a passionate 'dance with rope'.
It's not really about knots

In fact, there a only a few basic knots used in Japanese bondage. Once a few simple standard techniques have been mastered, these can quickly be used to build up more complex ties, the only limit being your imagination. I am constantly amazed how quickly students produce very professional looking work. You will learn not only how to create a beautiful result, but, most importantly, also how to maximize the erotic potential.

However, bondage is like many things, if you don't know what you are doing people can get hurt. There is a lot of knowledge about that suffers from 'Chinese Whispers' type inaccuracies and consequently many people are learning ties that suffer from fatal flaws. It is very important to know how to tie correctly, safely and how to avoid accidents. This is a subject I take very seriously and cove comprehensively.

What makes this course unique?

This is probably the most comprehensive and extensive resource available on-line. As my teaching has been a major force in spreading awareness of a more connective and tactile style, the focus on this sets it apart from any other tutorials which tend to concentrate on the purely technical aspects. This is what transforms it from 'just tying' into something far more powerful.

In addition, I have had the benefit of direct tuition from some of Japan's most acclaimed masters: Yukimura Haruki, Osada Steve, Kinoko Hajime, Naka Akira, Kazami Ranki and Arisue Go, which means you can be guaranteed of the best techniques and backed by sound knowledge. As one of the early adopters of this art, in the west, I can offer extensive practical experience from tying, teaching and performing worldwide forover 15 years.

What will you gain from this course?

You will learn step by step how to use the key 'ingredients' of shibari through a series ties in a way that will allow you to adapt your own 'recipes'. 'Painting by numbers' is not very sexy so this sort of creativity is essential. Whether you are a beginner or already have some experience, you will discover how to tie efficiently and with flow using tips gained from my own extensive practice and from my formal training.

The most important thing you will gain is the ability to make to rope a tool of communication to convey sensuality, eroticism and dominance, not merely a means of restraint before the 'main event'. Western bondage has not really concentrated on connection, whereas it is central to shibari in Japan. Few westerners who have not had direct tuition by Japanese teachers are aware of this, although they might be familiar with the patterns of the ties. It is not what you do but all about how you do it. This is the 'secret' of shibari that you will gain.
Your Instructor
Esinem is a shibari artist who has regularly appeared at UK and international events such as Pride, Torture Garden, Erotica, Rubber Ball, Wasteland, Boundcon, Nuit Demonia and recently represented the UK at Japan's first international kinbaku event, Toubaku. He is also known for his teaching both in the UK and internationally and was co-organiser of the London Festival of the Art of Japanese Bondage and BOUND, Europe's premier monthly shibari event.
Over the years, he has been improving his skills with the help some of their best known and respected Jpanese kinbakushi, Arisue Go, Osada Steve, Kinoko Hajime, Kazami Ranki and, grand master of newaza, Yukimura Haruki. Whilst drawing from classical methods, his style is distinctive and epitomizes the art of communicating with rope, often departing from the typical serenity of shibari shows and flying in the face of tradition to produce some striking and unusual performances.
In addition, he has worked on various videos, e.g. Primal Scream's 2013, artistic collaborations and photo shoots both on and off camera. He has been involved in projects providing inspiration for Tom Ford's 2013 collection and, Raqib Shaw, an acclaimed artist who has exhibited at the Tate, Metropolitan and White Cube galleries.
He contributed to Rope, Bondage & Power, edited by Lee Harrington and has been involved with a number of documentaries on kinbaku. He is also author of the first English language tutorial DVDs: 'Japanese Rope Bondage: Tying people, not parcels' .
Frequently Asked Questions
When does the course start and finish?
The course starts when you enroll and runs for one year. It is a completely self-paced online course - you decide when you start and when you finish.
How long do I have access to the course?
How does a whole year's access sound? After enrolling, you have unlimited access to this course giving you plenty of time to absorb it and return for revision - across any and all devices you own where ever you are. The annual subscription will renew automatically upon expiry, unless cancelled.
What if I am unhappy with the course?
We would never want you to be unhappy! If you are unsatisfied with your purchase, contact us in the first 7 days and we will give you a full refund if we can't sort it out.