We were inspired to make this tutorial after the earlier version had around 150,000 views on YouTube and elsewhere. Surprisingly,the largest proportion by population of views were from Japan. After this success, Nina was keen to make sure potential students had the best possible information. The latest YouTube update didn't even have audio instructions so it left a lot to be desired. So we have worked hard to build this new comprehensive tutorial which offers all the advantages of an e-learning environment, some of which I have highlighted below..
This is the extended and far more in-depth tutorial for Nina's hip harness, an extremely stable and versatile suspension tie.It addresses the tendency of the more simple hip harnesses for the frictions to slip causing the leg loops to tighten and provides additional suspension points whilst still maintaining the Japanese aesthetic and structural integrity
This tutorial enhances the free version with:
Video with step by step audio instructions (5m 53s)
Detailed notes on tying and usage
'Ask Nina' Q&A forum
Illustrations of technique and efficiency
Nerve injury information with video
Two alternative hip harness videos
Direction of building wraps tutorial
Homework assignment: Compare and contrast the various versions
Quiz with scored Certificate of Achievement

You get all this for a whole month for only $5 including Nina's personal advice. That wouldn't even cover the hourly rate of a Japanese master (10,00JPY/$85 ph) while you said "Konichiwa" and took off your shoes, never mind unpacking your ropes or getting some tuition!


Your Instructor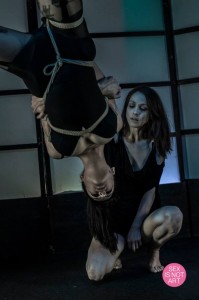 Nina Russ
Nina Russ is a London based, shibari performer, rope artist and educator. She became student of Esinem in 2011 and their collaboration gave birth to BOUND shibari night (2012) and ShibariClasses (2015). She had also the fortune to participate at workshops with different Japanese shibari masters, like: Kazami Ranki, Yukimura Haruki, Kinoko Hajime.

She has performed internationally, most notably at the London Festival of the Art of Japanese Rope Bondage and RopeFest in St.Petersburg. In addition, she participates in numerous artistic, fashion collaborations and local performances. Her passion for rope has lead her on a route of discovery of concepts, philosophy, aesthetics and benefits behind this Japanese discipline.

She sees shibari as an art form which creates deep connection between the participants and also aids personal development. Due to its martial arts roots, it brings self-discipline, efficiency, effectiveness and, thus, growth in confidence and awareness. She believes these skills allow a greater focus on the most important aspects: you, your partner and your shared experience.

Rope is simply a means of communication. She wants you to discover through her tying, the language of rope, which speaks directly to the mind and body.
Frequently Asked Questions
How long do I have access to the course?
The course starts now and runs for a whole month! It is a completely self-paced online course - you decide how fast you go and how much you revise. Subscriptions renew automatically until cancelled.
When does the course start and finish?
The course starts now and runs for a whole month! It is a completely self-paced online course - you decide how fast you go and how much you revise.
What if I am unhappy with the course?
We would never want you to be unhappy! If you are unsatisfied with your purchase, contact us in the first 7 days and we will give you a full refund if we can't sort it out. Of course, as it's a monthly subscription, you can also stop it at any time