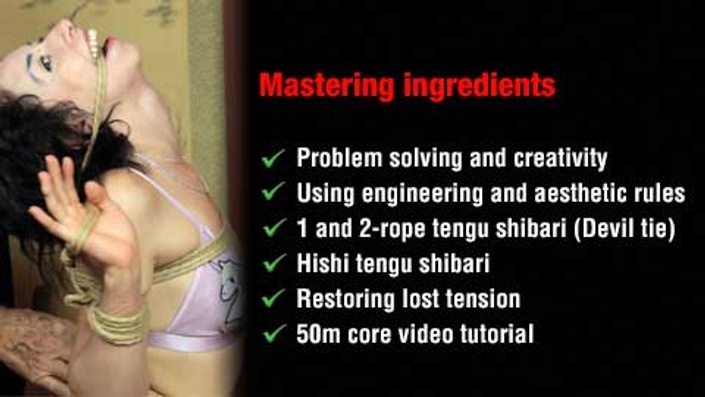 Mastering ingredients
Understanding the ingredients of shibari to tie with confidence, competence and passion
This tutorial will teach you how to master the 'ingredients' of shibari, i.e. the components that are used, to create your own 'recipes' (ties).The objective is not simply to teach a tie but how to create ties. Teaching 'ingredients' that make up the 'recipes' and how they can be varied and substituted has been extremely well-received as it makes sense of and simplifies what seems like a very complex subject. Expect that 'lightbulb moment' as it all becomes clear.
In reality, almost all ties are a combination of simple ingredients used according to a few basic rules. Once this is secret is grasped, you are freed from simply 'painting by numbers' to become both more creative and safer due to this understanding. This will be the most practical demonstration of this way of teaching that we have produced so far. In this example, how to tie tengu shibari, the 'devil tie', so-called because the arm position resembles wings…or, less romantically, an oven-ready chicken. Whatever you call it, it creates a nice exposed position that excentuates helplessness.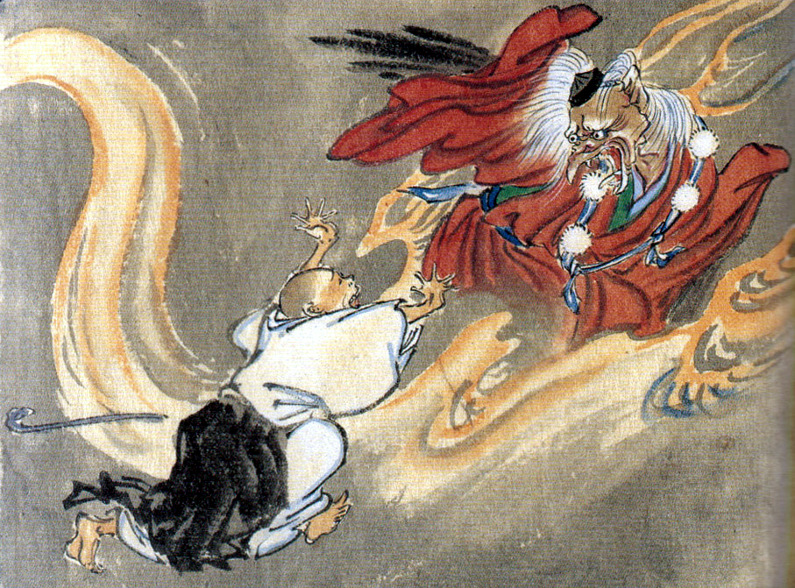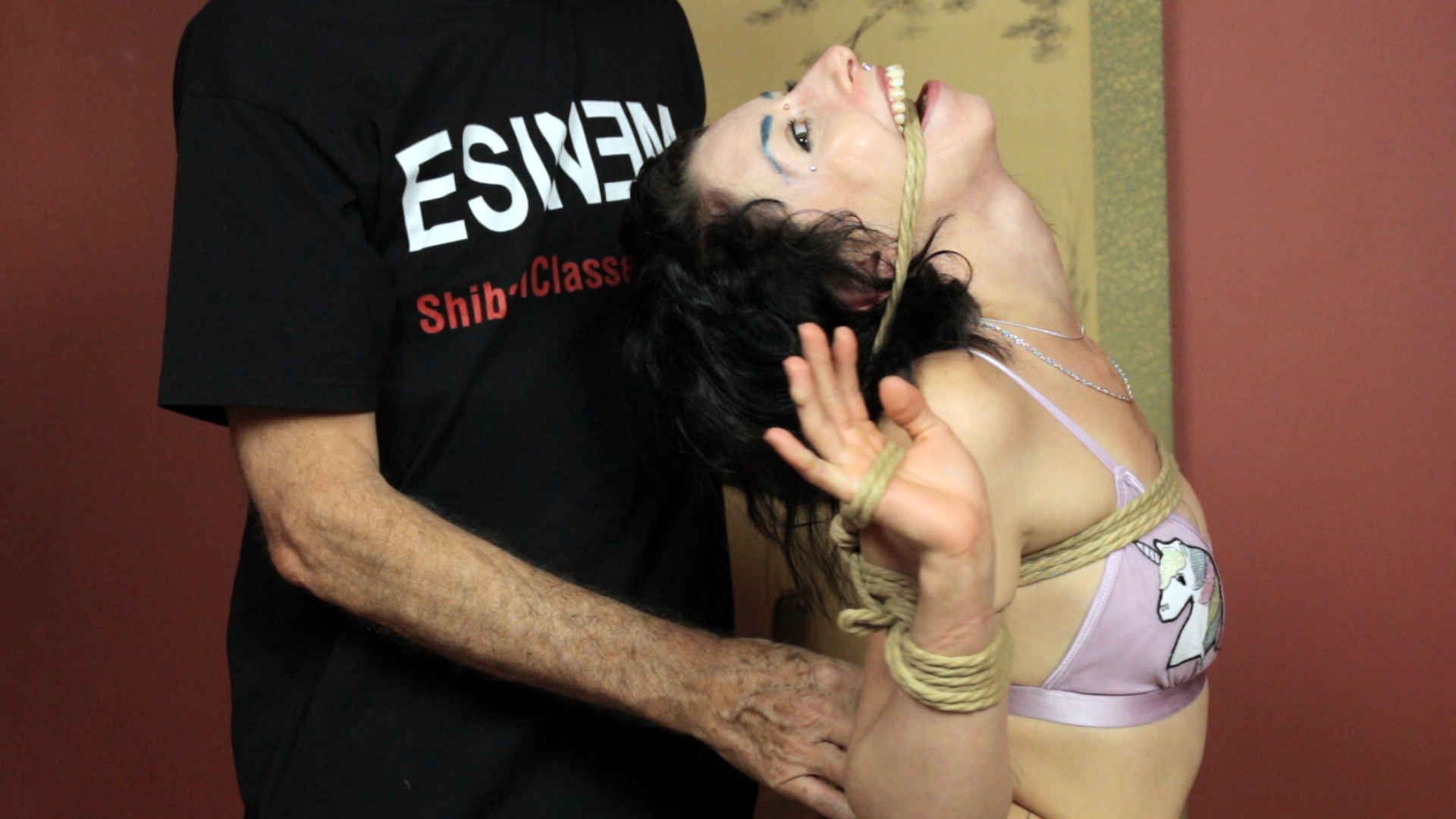 You explore various solutions and compare the methods of reaching them, discovering the pro's and con's.We teach you not just the tie but also the 'why'. The solutions will, of course, be determined by intent and purpose. Something that is all too often not considered. In other words, the construction will vary, at one end of the scale, from a quick and dirty solution to a carefully engineered suspension tie or an art piece for a photograph at the other. It is, as they say, horses for courses. Not only does the tie need to fit the person, not vice versa, but it also needs to fit the situation and purpose. Shibari is about much more than simply trotting out set patterns. This tutorial will give you the independance of creating your own ties, the ability to exert your individuality and make the experience of being tied intensely personal.
This tutorial includes:
One-rope single column based tengu shibari
One-rope double column based tengu shibari

Multiple starting points
Two-rope tengu shibari chest harness

Two-rope hishi (diamond pattern) tengu shibari

Numerous tips and tricks, e.g. curing lost tension, effortless control techniques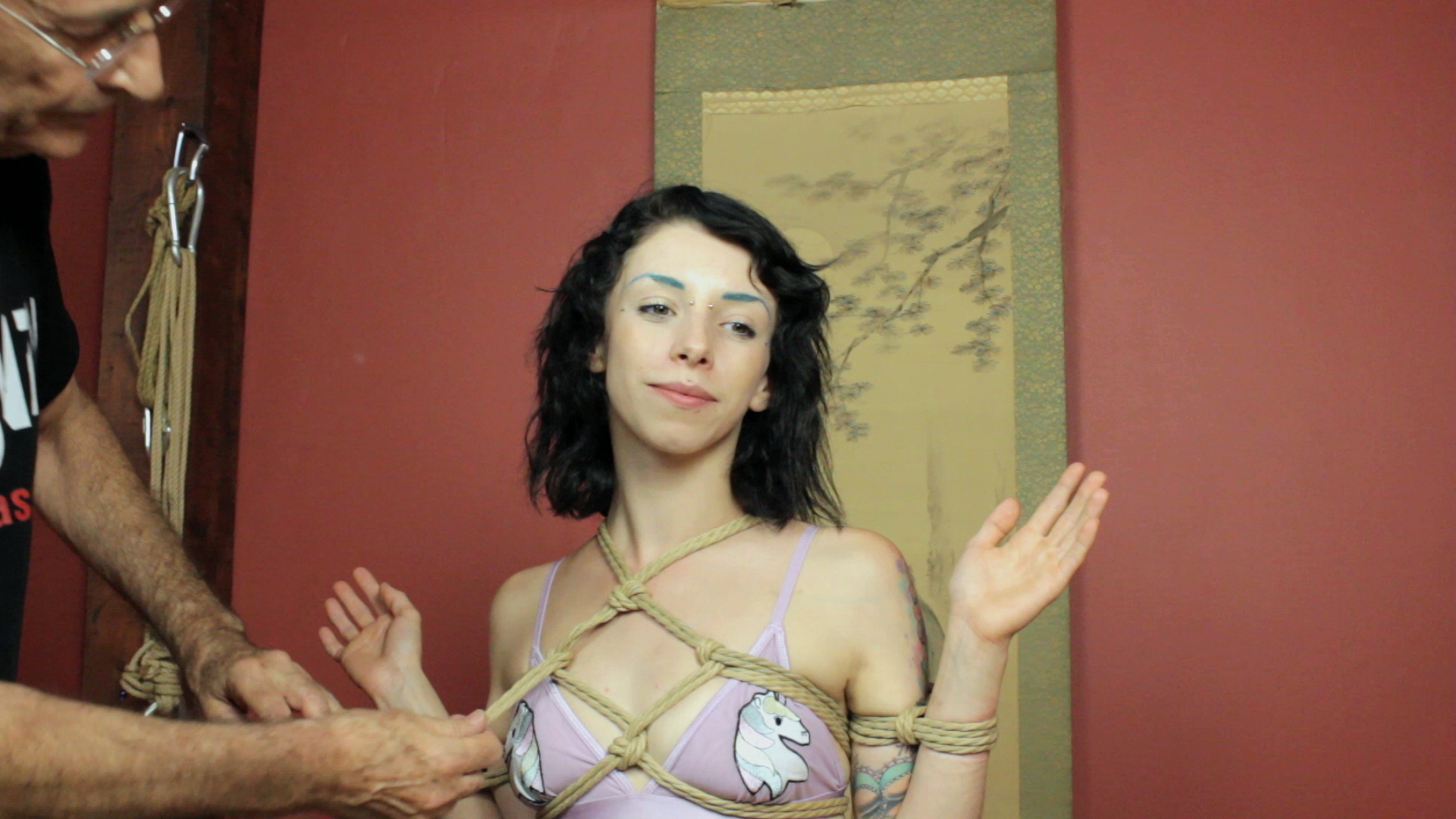 Your Instructor
Esinem is a shibari artist who has regularly appeared at UK and international events such as Pride, Torture Garden, Erotica, Rubber Ball, Wasteland, Boundcon, Nuit Demonia and recently represented the UK at Japan's first international kinbaku event, Toubaku. He is also known for his teaching both in the UK and internationally and was co-organiser of the London Festival of the Art of Japanese Bondage and BOUND, Europe's premier monthly shibari event.
Over the years, he has been improving his skills with the help some of their best known and respected Jpanese kinbakushi, Arisue Go, Osada Steve, Kinoko Hajime, Kazami Ranki and, grand master of newaza, Yukimura Haruki. Whilst drawing from classical methods, his style is distinctive and epitomizes the art of communicating with rope, often departing from the typical serenity of shibari shows and flying in the face of tradition to produce some striking and unusual performances.
In addition, he has worked on various videos, e.g. Primal Scream's 2013, artistic collaborations and photo shoots both on and off camera. He has been involved in projects providing inspiration for Tom Ford's 2013 collection and, Raqib Shaw, an acclaimed artist who has exhibited at the Tate, Metropolitan and White Cube galleries.
He contributed to Rope, Bondage & Power, edited by Lee Harrington and has been involved with a number of documentaries on kinbaku. He is also author of the first English language tutorial DVDs: 'Japanese Rope Bondage: Tying people, not parcels' .
Frequently Asked Questions
When does the course start and finish?
The course starts now and runs for a whole month! It is a completely self-paced online course - you decide how fast you go and how much you revise. Subscriptions renew automatically until cancelled.
How long do I have access to the course?
How does a whole month 24/7 sound? After enrolling, you have unlimited access to this course for as long as you like until you cancel - across any and all devices you own.
What if I am unhappy with the course?
We would never want you to be unhappy! If you are unsatisfied with your purchase, contact us in the first 7 days and we will give you a full refund.