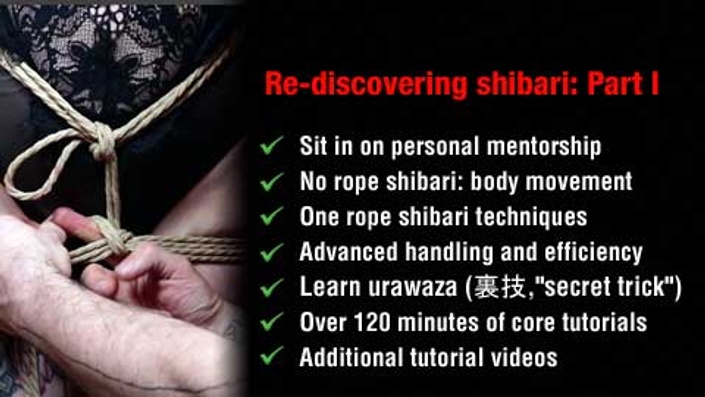 Re-discovering shibari: Part I
You have learned the patterns but now want to move beyond 'painting by numbers' to make the magic happen
Why 'Re-discovering shibari'?

This series is called 'Re-discovering shibari' because our student, Jack, is not a beginner but, in many ways, he is typical of a lot of students who have yet to reach their full potential. In this series, you will follow his progress under our tuition and learn beside him in a series of 1-2-1 classes. It's your chance to sit in on hundreds of dollars worth of personal mentorship for a small investment.
Jack has developed his skills from studying Two Knotty Boys' and Douglas Kent's books, attending some local rope groups and a lot of practice. As a consequence, he can create a nice looking tie but has never been taught the secrets of handling, efficiency and flow or the nuances of rope craft. These are some of the things that combine to move beyond the basics into creative, profound and passionate tying, yet are well nigh impossible to learn from books or basic rope classes, if they are even covered at all.

However, his experience as a masseur and understanding of engineering principles give him a tremendous advantage. You will see he's a natural when it comes to moving and manipulating the body. So, there's also a lot to be learned by watching him, including a few nice and nasty pressure point tips.

Who is this for?

Everyone! Yes, really. Let me explain how this series will help each of you, regardless of where you are on this adventure. The diagram below is an excellent representation of this journey and the relationship between confidence and wisdom as you progress.

When we are learning anything, we go tend to go through four stages before reaching mastery, be it of tying or teaching: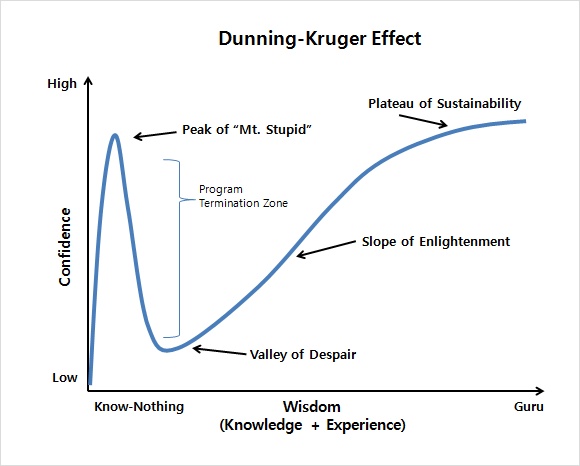 Shibari is no different, although it might have a few more peaks and valleys. Nina and I know how it is, we have trodden this path before you. This series is designed to push the re-set button, or should I say 'turn-on' buttons, and guide you up the Slope of Enlightenment towards the goal of the Plateau of Sustainability.
Beginners

If you starting out, just being aware of the ups and downs of learning can help you can by-pass the typical early mistakes and steer a more productive course. We have climbed Mt. Stupid...more than once. It's that dangerous stage of unconscious incompetence, where you think you know it all but don't. Maybe you are doing the same or have descended into the Valley of Despair, wondering if you will ever make sense of it? The good news is that you will see how simple it can be with our proven 'ingredients-based' approach and through explaining the 'why behind the action'.

Of course, the most important thing about this series for you is being introduced to powerful techniques that are usually only taught at advanced levels, yet can be used in the most simple of rope sessions from day one. Not only that, but you won't waste time and have the frustration of having to unlearn inefficient or bad habits.

The purpose of this series is as an enhancement to our beginners' courses like 'Shibari:The Easy Way' and 'Tying Techniques'. It is more like sitting in on a private class, where you see typical mistakes being corrected and challenges overcome. This will help you understand everything we have taught more clearly and will lift you out of the Valley of Despair when you see you are not alone.

Intermediates

If you are a little further along the path, this series will reveal many of the things that you don't know that you don't know. It will also help you hone the skills which you know could do with sharpening. We will also be revealing what my main teacher, Osada Steve, calls urawaza (裏技, meaning "secret trick"). The Japanese use this term to a describe quirky, ingenious techniques that optimise an activity but in our context it can also imply ones that are unseen.
Teachers

Whether you are just starting out as a teacher, wondering how to format your classes, or an experienced instructor looking to update your methods and deepen your curriculum, this is for you.

This series, and our other tutorials, provide an excellent template for structuring classes with the added advantage that students can use them for both pre-class preparation and revision. The mutual frustration of having to correct a student at the next class because they mis-remembered what they have been taught, thus wasting hours practising the mistake, can be a thing of the past.

This series will provide you with material that will produce some real light-bulb moments for your students and generate the enthusiasm that creates. Once your students start talking about the different level your teaching brings, you will become the go-to teacher.

What does the series cover?
At this time, we haven't decided on how many lessons will be in this series as it will depend upon our student. How fast and how far he progresses will be very much up to him.

Part I
In this first tutorial, we go right back to basics. We begin by exploring how to move your partner's body and develop a flow. Shibari is often compared to a passionate dance like Tango because so much of its essence is about movement and being as one with your partner. Like dancing, it is just as easy to get it wrong with shibari and become that dance partner with two left feet. To really get the best from your tying, this is a skill that should be mastered even before you pick up a rope. As you'll see, rope is really only a tool to extend the possibilities.
In the next section, we add a single rope and, to make it even more simple, the first session doesn't even involve proper frictions. From there, we build up by adding some simple frictions. "But I know all that!", we hear you say. The real question is: "What effect can you produce with them?". With the right skills, you can create an effect just as deep with one rope as entire set and an elaborate suspension. Sceptical? Watch Osada Steve at work in this free tutorial.

Unless, you have been specifically taught, you will be very likely to be doing things the hard way, losing flow and quite possibly fumbling. None of that is sexy or dominant, so in the second half, Nina works on improving how you can use your fingers and hands to tie with maximum efficiency, precision and effect.
This series provides what is missing from so much tuition It is one thing to learn the steps involved in knots and ties but quite another how to use these skills in a meaningful way. Like playing the violin, it's not enough to know that you need to draw the bow across the strings, it's all in how you do it.
This course brings together the most important elements of our teaching. It provides a solid foundation of the skills that you need to acquire to progress beyond simply repeating patterns into profound and meaningful sessions.

What are you waiting for? Push the re-set button and re-discover shibari!


Your Instructor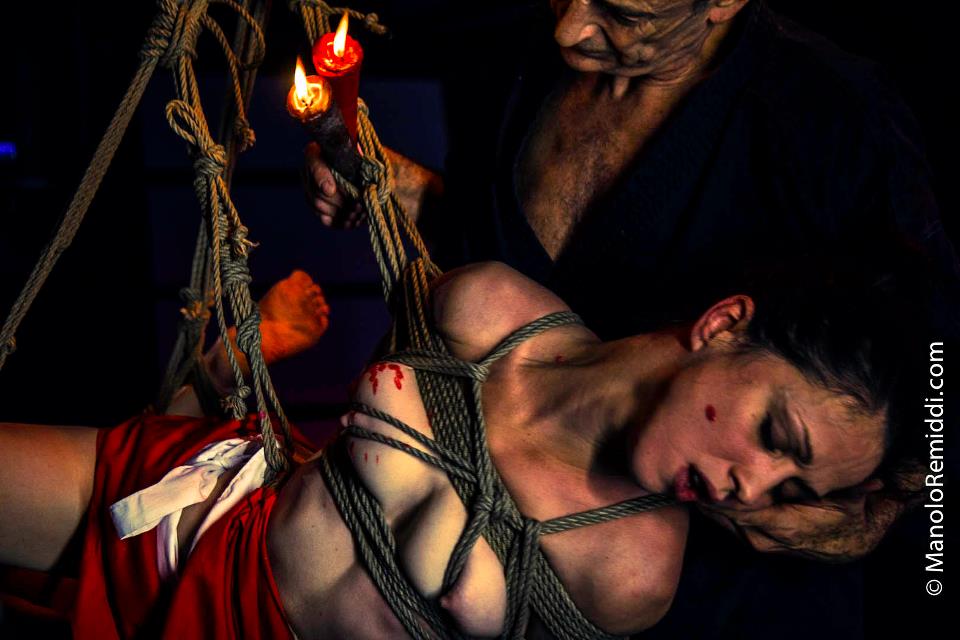 Esinem is a shibari artist who has regularly appeared at UK and international events such as Pride, Torture Garden, Erotica, Rubber Ball, Wasteland, Boundcon, Nuit Demonia and recently represented the UK at Japan's first international kinbaku event, Toubaku. He is also known for his teaching both in the UK and internationally and was co-organiser of the London Festival of the Art of Japanese Bondage and BOUND, Europe's premier monthly shibari event.

Over the last few years, he has been improving his skills in Japan with the help some of their best known and respected kinbakushi, Arisue Go, Osada Steve, Kinoko Hajime, Kazami Ranki and, grand master of newaza, Yukimura Haruki. Whilst drawing from classical methods, his style is distinctive and epitomizes the art of communicating with rope, often departing from the typical serenity of shibari shows and flying in the face of tradition to produce some striking and unusual performances.

In addition, he has worked on various videos, e.g. Primal Scream's 2013, artistic collaborations and photo shoots both on and off camera. He has been involved in projects providing inspiration for Tom Ford's 2013 collection and, Raqib Shaw, an acclaimed artist who has exhibited at the Tate, Metropolitan and White Cube galleries.

He contributed to Rope, Bondage & Power, edited by Lee Harrington and is currently involved with a number of documentaries on kinbaku. He is also author of the first English language tutorial DVDs: 'Japanese Rope Bondage: Tying people, not parcels'.


Nina Russ is a London based, shibari performer, rope artist and educator. She became student of Esinem in 2011 and their collaboration gave birth to BOUND shibari night (2012) and ShibariClasses (2015). She had also the fortune to participate at workshops with different Japanese shibari masters, like: Kazami Ranki, Yukimura Haruki, Kinoko Hajime.

She has performed internationally, most notably at the London Festival of the Art of Japanese Rope Bondage and RopeFest in St.Petersburg. In addition, she participates in numerous artistic, fashion collaborations and local performances. Her passion for rope has lead her on a route of discovery of concepts, philosophy, aesthetics and benefits behind this Japanese discipline.

She sees shibari as an art form which creates deep connection between the participants and also aids personal development. Due to its martial arts roots, it brings self-discipline, efficiency, effectiveness and, thus, growth in confidence and awareness. She believes these skills allow a greater focus on the most important aspects: you, your partner and your shared experience.
Frequently Asked Questions
When does the course start and finish?
The course starts now and runs for a whole month! It is a completely self-paced online course - you decide how fast you go and how much you revise. Subscriptions renew automatically until cancelled.
How long do I have access to the course?
How does a whole month 24/7 sound? After enrolling, you have unlimited access to this course for as long as you like until you cancel - across any and all devices you own.
What if I am unhappy with the course?
We would never want you to be unhappy! If you are unsatisfied with your purchase, contact us in the first 7 days and we will give you a full refund.