A better way to learn shibari suspension
There's a new and different way to learn to suspend creatively.
It's our ingredients-based method, which you might already have encountered is our other tutorials. This approach applies equally to suspension by making the core ties ingredients in suspensions. You will learn how these can be mixed and matched. In this way, you will learn how to vary your suspensions creatively, rather than robotically duplicate set 'recipes'.
And it's very different from the usual tutorials because it makes learning easy, by teaching you how these ingredients are used, rather than just confronting you with a bewildering selection of suspensions. And as you'll see, it will make seemingly complex suspensions very intuitive, enabling you to tie more safely and accelerate your learning.
Best part of all, our structured approach means you won't be left wondering where to start. We take you from zero to hero.
So, if you want to understand shibari suspension and learn to tie creatively, this is the course for you.
Tie like a pro
Many of the techniques we reveal will also improve your flow and speed by allowing you to work efficiently. Smooth, confident tying creates trust by demonstrating competence and exudes dominance, unlike inexpert fumbling.
If you have never experienced a tutorial of this sort, you probably have no idea what you and you partner are missing. This bundle condenses the equivalent of months of high level tuition into around 19 hours by clearly presenting the key points without the distractions always present in face to face tuition.
Making sense of the maze
There are so many ways to learn. It's confusing so where do you start? Books can teach the steps but fall short on teaching the nuances. You need to see it done. Videos might show you more but where do you start and which are any good? If you go to a workshop, is the teacher competent to teach you proper technique?
This course offers a solution. We have structured route to guide you from the basics of equipment, ways to practice before going fully airborne, simple and safe ties to hone your skills right the way through to advanced suspensions and transitions.
Our tutorials are based on over 30 years of combined experience of teaching and performing, combined with tuition by Japan's most acclaimed masters. Thus, you are guaranteed first class instruction.
Our videos are shot in HD with two cameras so you will be sure to catch every detail in the close-up shots where it really matters. In addition, there are also written notes where extra clarification is needed and the opportunity to interact directly with Nina and I to answer your questions.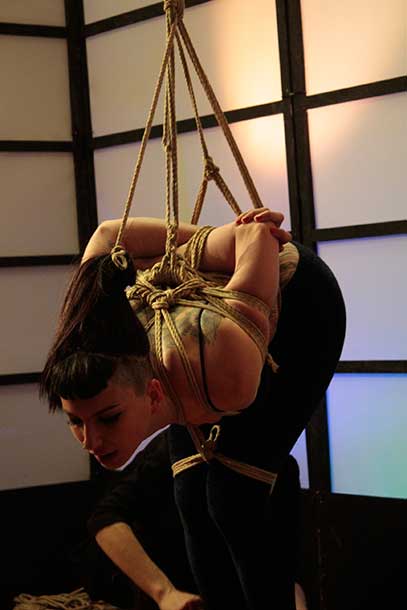 "I am writing to let you know just how wonderful your instructional site ESINEM - Shibariclasses is. In an unassuming style both you and Nina present simple and complex processes broken down to their component parts so they can be internalized by the student and used in a myriad of ways as we progress. You take a single theme or tie and show it , stopping throughout to show where alternative components could be used and why each is either important or unimportant. Then you'll perform the same tie in various ways to show how all these component parts can be put together . There is no other instructional website that does this in the same detail or style that you both display. Again there are a number of wonderful wonderful sites which I support but none that dive into the detail and emotion that is yours. It is the next best thing to in person tuition learning that there is bar none! You have significantly improved my understanding and style as my instructor can attest.

Additionally your sister site The Art and Practice of Shibari displays what is possible, albeit in a theatrical setting, when the technique and emotion are combined for display. I find it an excellent companion site!" - Mark G

Over 19 hours of advanced tuition

Frequently asked questions
Can I get a refund if I'm unhappy with my purchase?
We would never want you to be unhappy! If you are unsatisfied with your purchase, contact us in the first 7 days and we will give you a full refund.


When does the course start and finish?
The course starts now and runs for a whole month! It is a completely self-paced online course - you decide how fast you go and how much you revise. Subscriptions renew automatically until cancelled.

How long do I have access to the course?
How does a whole month 24/7 sound? After enrolling, you have unlimited access to this course for as long as you like until you cancel - across any and all devices you own.