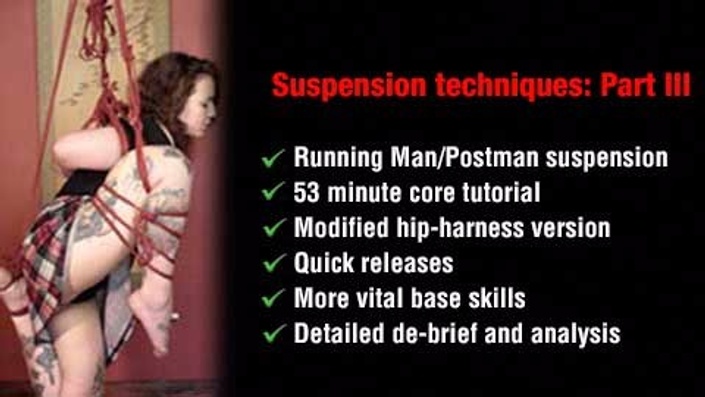 g) Suspension Techniques: Part III
Running Man (aka Postman) suspension in one easy lesson
Part III builds on the skills that you have gained in Part I and Part II of Shibari Suspension Techniques with two hours of video explaining the Running Man (aka Postman) suspension, thus named to due the the vertical position which mimics running. You might have seen versions of this striking shibari suspension performed by the likes of Kinoko Hajime or Kazami Ranki.
You will learn:
Using additional secondary lines
Using an secondary main line
Harness to harness suspension
Variations on the contemporary gote
When and how to use quick release tie-offs
Two versions of this suspension, one using a modification of her hip-harness
A very exposed play position
Not only is this all shown in great detail but, as usual, we also explain the reasons for everything that's done. Suspension is not something to do by rote. To be safe and creative, you need to
understand
what you are doing and why. It is all too easy to make dangerous mistakes through ignorance. With 20+ years combined experience, 1,000's of suspensions and teaching from some of the world's top riggers, you can be sure we know most of the pitfalls and can help you avoid them. In addition, Sophie gives some useful feedback and tips for bondage models.
In this tutorial, we take a more 'real life' approach which does not exclude every glitch and thing that could have been done better. In the real world, ties are rarely 100% perfect. Tangles and snags happen, you drop a rope, get twists or something a bit off centre. By leaving these things in the video, pointing them out and doing a de-brief and analysis, we think you'll learn more than if everything was done faultlessly with no room for self-critique. As we are always likely to encounter these things, it's important to recognise them, know what's dangerous or just ugly and know what remedial action to take.
In an in-depth analysis and self-critique, which is as long as the main tutorial, we discuss the tutorial. We believe this format is a superb way to learn but not one we have seen applied to shibari. For example, you'll discover how to avoid making a poor choice of main attachment which could increase the risk of injury, how easily a tangle can be 'flicked out' without making it a drama, how to assess suspension line tension and why it's important and other vital skills.

As we always preach connective tying, we have added an extra video explaining how many of the techniques in this video can be used to improve the message your rope sends to those you tie.
Assuming you have the base skills, e.g. to competently tie Nina's hip-harness and a gote, and have completed the preceding parts of this series, you should be able to perform this suspension after studying this tutorial. While we encourage your enthusiasm, we urge you to really make really sure that you have laid solid foundations, especially with the gote, and not to rush ahead as this can be quite a demanding suspension. However, it is one which allows the person suspended to choose how they take the load and the clever addition of a simple variation of Nina's hip-harness makes it far more comfortable. This means it is easier to endure and, most importantly, makes it safer by reducing the load on the gote and adding the option of additional secondary main line. So it's a perect suspension to start and one which looks very impressive.

Your Instructor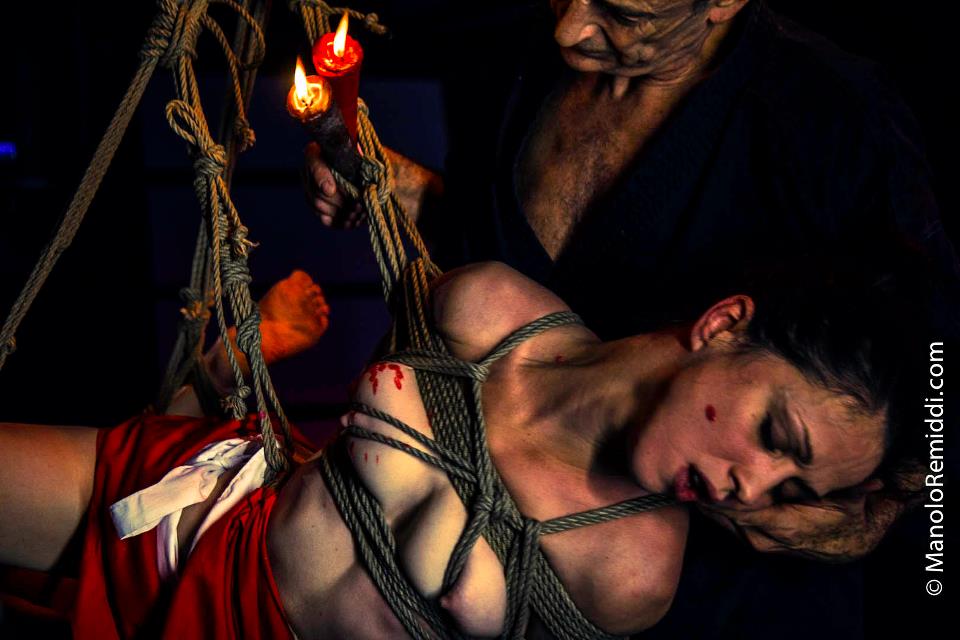 Esinem is a shibari artist who has regularly appeared at UK and international events such as Pride, Torture Garden, Erotica, Rubber Ball, Wasteland, Boundcon, Nuit Demonia and recently represented the UK at Japan's first international kinbaku event, Toubaku. He is also known for his teaching both in the UK and internationally and was co-organiser of the London Festival of the Art of Japanese Bondage and BOUND, Europe's premier monthly shibari event.

Over the last few years, he has been improving his skills in Japan with the help some of their best known and respected kinbakushi, Arisue Go, Osada Steve, Kinoko Hajime, Kazami Ranki and, grand master of newaza, Yukimura Haruki. Whilst drawing from classical methods, his style is distinctive and epitomizes the art of communicating with rope, often departing from the typical serenity of shibari shows and flying in the face of tradition to produce some striking and unusual performances.

In addition, he has worked on various videos, e.g. Primal Scream's 2013, artistic collaborations and photo shoots both on and off camera. He has been involved in projects providing inspiration for Tom Ford's 2013 collection and, Raqib Shaw, an acclaimed artist who has exhibited at the Tate, Metropolitan and White Cube galleries.

He contributed to Rope, Bondage & Power, edited by Lee Harrington and is currently involved with a number of documentaries on kinbaku. He is also author of the first English language tutorial DVDs: 'Japanese Rope Bondage: Tying people, not parcels'.


Nina Russ is a London based, shibari performer, rope artist and educator. She became student of Esinem in 2011 and their collaboration gave birth to BOUND shibari night (2012) and ShibariClasses (2015). She had also the fortune to participate at workshops with different Japanese shibari masters, like: Kazami Ranki, Yukimura Haruki, Kinoko Hajime.

She has performed internationally, most notably at the London Festival of the Art of Japanese Rope Bondage and RopeFest in St.Petersburg. In addition, she participates in numerous artistic, fashion collaborations and local performances. Her passion for rope has lead her on a route of discovery of concepts, philosophy, aesthetics and benefits behind this Japanese discipline.

She sees shibari as an art form which creates deep connection between the participants and also aids personal development. Due to its martial arts roots, it brings self-discipline, efficiency, effectiveness and, thus, growth in confidence and awareness. She believes these skills allow a greater focus on the most important aspects: you, your partner and your shared experience.
Frequently Asked Questions
When does the course start and finish?
The course starts now and runs for a whole month! It is a completely self-paced on-line course - you decide how fast you go and how much you revise. Subscriptions renew automatically until cancelled.
How long do I have access to the course?
How does a whole month 24/7 sound? After enrolling, you have unlimited access to this course for as long as you like until you cancel - across any and all devices you own.
What if I am unhappy with the course?
We would never want you to be unhappy! If you are unsatisfied with your purchase, contact us in the first 7 days and we will give you a full refund.