Femoral nerve
I have heard anecdotal evidence that there have been some instances of nerve injury from futo momo suspensions. Fetlife has an interesting discussion here which is well worth reading.
The symptoms seem largely to imply femoral cutaneous nerve compression, i.e. numbness of a patch of the front of the thigh. I will ask some kinky professionals, a surgeon and a consultant pathologist, who I know for their opinion. Meanwhile, the most sensible preventative measure is to get good feedback and for the person tied to be very aware of any unusual sensations whether this be on the floor or in suspension. However, I believe it to be safe for floor-work, assuming you don't tie ridiculously tightly.
It certainly appears that nerves could be compressed. This is a representation of where the femoral cutaneous nerve might be vulnerable.
It is quite possible that other risks might exist in the shin with the saphenous nerve, the largest cutaneous branch of the femoral, but this is pure speculation on my part. However, it does seems possible that it could be compressed against the bone. Again, I will do some further research.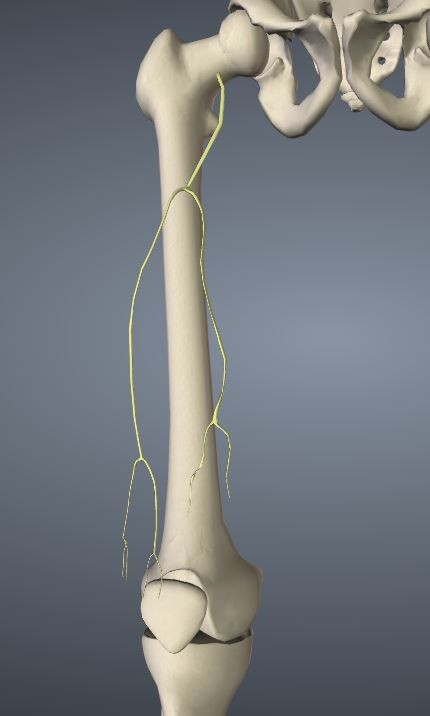 Interestingly, a student reported some very slight warning signs in the form of unusual sensation on the upper part of the foot. Palpation confirmed what Biodigital Human showed, i.e. that it was likely to superior peroneal nerve (L4-S1) compression on the outside the shin about 150mm/6" up from ankle bone. You can see a photo below:

If you are adding the addition hip rope as a 'belt & braces' or load-spreader for suspension, be aware of the location of the femoral nerve.
In my post entitled 'Nerve Injury Upper Thigh Numbness' , I high-lighted the problems of femoral cutaneous nerve compression from hip harnesses and pressure near the front of the hip bone. In fact, I recently heard of an injury persisting for 6 weeks which I attribute to be caused by being tied over a table with the edge pressing into this region. Apparently, no warning symptoms were noticed. Similar problems occur with tight jeans, wide belts etc. due to the pressure.
Here's a link to an excellent video that highlights exactly where the nerve appears to be vulnerable and confirms that the nerve can not only run over ligament but also split and go both over and under.
I can't help but feel that in subjects where the nerve runs over, a higher susceptibility is likely. It would certainly be wise to palpate the area in question when using a hip harness or other ties in this area for suspension. Suspensions bringing pressure from the rope into this area would logically carry the greatest risk, e.g. butt up in a hip harness. It is possible the upright positions might drag the rope into a position where it could compress the nerve.
I would be interested to hear the experience of others as, whilst the vulnerability in this area is not new to me, it is only recently that I have been hearing of injuries. Of course, this is result of the greater popularity of this sort of tie.