The place to learn and improve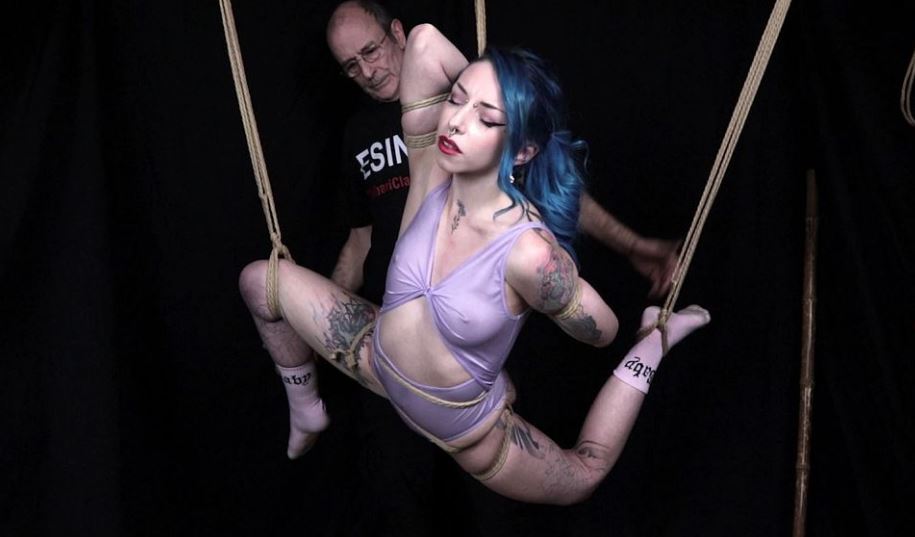 "Shibari is 90% emotional. The other half is technical." Osada Steve



Welcome to our on-line shibari school
Welcome to ShibariClasses, our on-line Virtual Dojo, the place to learn Japanese rope bondage and improve your tying skills. Firstly, let us introduce ourselves: Your teachers, Bruce Esinem and Nina Russ, have a passion for Japanese rope art. We want to share more than 25 years combined experience, revealing the techniques of the professionals and showing how much more you and your partner can get from this art.

We also have guest tutors including Osada Steve, who has been pivotal in introducing shibari to the west and Japanese trained bakushi like Osaka Dan and Milla Reika.

If you have come here as a complete beginner and are still at the stage where you are not even sure exactly what it entails, this link answers the question: "What is shibari?".

It doesn't matter where you are in this journey, we have tutorials for you. They range from introductory material like 'Shibari: The Easy Way' which will take you from the first steps to being able to tie up your partner erotically with confidence right the way up to our 12-part suspension course.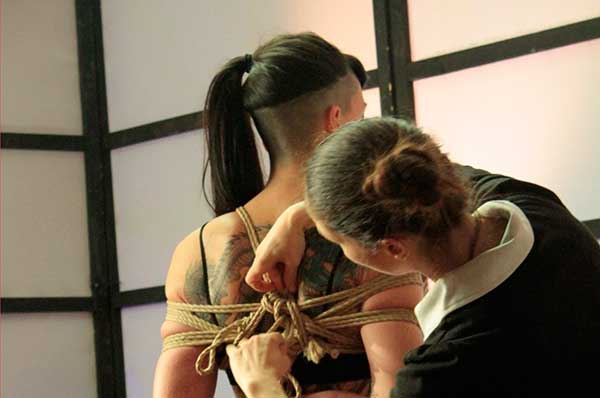 Making learning to tie simple
Our mission is to make shibari easy by 'teaching you to fish', rather than merely presenting you with one. We do this by providing very comprehensive, yet easy to follow multi-media guides, which will help you to tie safely with passion and creativity. Of course, we will give you many specific bondage ties and ideas as well.


The how and the why of shibari
We go far beyond the usual basic 'paint by numbers' demonstrations that you might have seen elsewhere. Our unique 'ingredients' based approach shows you the 'how' but also, most importantly, explains the 'why'. The tutorials include the important subtleties that help create feeling and psychological impact. With this knowledge, you will discover how to do this with greater confidence and gain the expertise to spot and correct your own mistakes.

"I completed the course and loved how well the reasoning behind each movement was explained, rope efficiency and how the energy is transmitted through the rope. Its IMPRESSIVE!!!"

"Very impressed with the intimate, subtle, and intellectual approach I've found with this course; I am more than pleasantly surprised. I'm greatly looking forward to immersing myself in this truly wonderful way to bond with people and developing a sense true touch and fluid proficiency. "


Connective rope: 'Tying people, not parcels'
You will learn that shibari is not just about knots but all about the way you use the rope to please your partner, how it can be a tool of communication and an extension of your hands...and will. As the one who coined the expression 'tying people, not parcels' and was preaching it before some of today's teachers had even picked up a rope, you will be getting this advice for all those year's experience first-hand and undiluted. We firmly believe these techniques can only be learned by seeing them in action, not by reading a book, regardless of the number of pictures. Of course, now Osada Steve has his floor-work series, you can hear it from the horses mouth and learn the secrets.

We believe you will be surprised how much our tutorials will improve your tying and understanding of this art. You will learn things that might take you years to discover otherwise. To quote a recent student:
"I was actually able to get my princess into subspace with rope for the first time using the techniques you taught"

In addition to transforming the way you tie, you will gain confidence and dominance because you will possess demonstrable skills and in learning these, you will also build self-discipline. This will focus you in the present and therefore expand your awareness. A chain of events that can only benefit you. This is common to many of the martial arts and, of course, shibari's heritage is in hojojutsu and samurai techniques.
We feel sure you will be as delighted as our other students; see what they say. In fact, we are so certain you'll be completely happy that we offer a money-back guarantee.


Not just shibari, BDSM too
As we are well aware that many of you will also be interested in other areas of BDSM, we have a growing collection of BDSM tutorials. These cover everything from starting your exploration to developing your skills and niche areas like vacuum bed play.
With free shibari classes, tutorial previews, our guarantee of satisfaction and a low monthly subscription or one-off purchase, what's stopping you?



Any questions?
I'd like to start by answering a few of the questions you are likely to have, addressing some of the challenges to learning and explaining the advantages of our way of teaching.

Click on the headings below for answers.
▼ Why learn with us?
Why us? After all, there are bondage teachers popping up everywhere, each claiming to be a master. So how do you choose? First off, look for evidence of skill in the style you are looking to learn. If somebody is good enough to teach, their work should be good enough to post on-line for all to see; not just a couple of pictures, look for a solid body of evidence. Ideally, you should also see them work live or on video, as almost anyone with basic skills, given sufficient time, can make a tie look good in a studio picture or two.
We didn't learn yesterday and have decades of combined experience, we have been taught by some of the world's top nawashi including Yukimura Haruki, Osada Steve, Kinoko Hajime, Akira Naka, Arisue Go and Kazami Ranki. Take a look at galleries on our websites or Fetlife for 1,000's pictures of our work, plus a lots of videos of our shows. Over the years, Nina and I have performed at dozens of venues worldwide, including some of largest fetish events, e.g. Boundcon (Germany), Ropefest (St. Petersburg), Torture Garden (London/Athens), Toubaku (Tokyo), Wasteland (Amsterdam), Nuit Demonia (Paris), Rubber Ball (London) etc. All the shows, classes and private sessions must add up to thousands sessions! In addition, our work has appeared on international TV, documentaries, music videos (Primal Screa, Wolfmen, Tianamen and Big Pink), plus many mainstream publications, e.g. LOVE, Vogue Italia, .Cent, Sang Bleu, Wallpaper, Prima Linea and more.
▼ Isn't a real life bondage workshop better?
Real life workshops are great. We have attended many over the years. However, the actual takeaway content is small in relation to the price, since much time is spent practising or waiting for the teacher to get around many students.
To get any real value, you need to be able to remember the minutae. I have all too often found that I have forgotten a lot by the time I come to practice what I learned. The result is that one can waste time and ingrain errors by practicing these mistakes. As Nina says, "Perfect practice makes perfect".
I have frequently had students proudly show what they thought they had learned at the last real-life class, only to find they remembered imperfectly and, so, we have to waste time undoing those mistakes. With a video tutorial, you can re-run them as often as you like without the fear that you are holding up a class or looking stupid in front of others.
▼ Why not just use free videos from YouTube?
There are some fantastic YouTube videos but there are also some that are, at best, poor and, at worst, dangerously incompetent. The problem is knowing which is which, especially if your knowledge is limited. Most are just demonstrations with little explanation behind them and showing little detail. We explain exactly how and why we do everything, showing close-up HD video of the detail so you can easily understand and learn everything right down to finger movements, which make your tying smooth, effective and efficient.
▼ Isn't shibari really complicated?
Shibari looks very complicated at first sight, doesn't it? We will show you that it isn't. It is really only a question of using a small set of ingredients with some slight variations and simple rules, so it suddenly makes sense. We will give you the foundations that will allow you to build your skills very quickly and become creative and flexible by mixing and matching these ingredients; like a master chef but with rope
▼ Do you teach a specific ryu (school/style)?
In short, no. Although, both Nina and I draw heavily from the Japanese masters. It is a mixture of the best styles and techniques, a sort of very individual Pick'n'Mix.

My main influence has been Osada Steve, who first made shibari accessible to westerners, although I have taken tuition from many of Japan's best-known nawashi. As I said to Steve when I started learning, "Don't be offended if I take lessons from others. My goal not to become an Osada clone but to develop my own style taking elements from many". This approach allowed me to identify the rules and elements common to shibari, leading to our ingredients-based teaching method.
Whilst I have mentored Nina with my Osada influence, she is fiercely individualistic and very analytical. As a perfect counterbalance, she has meticulously analysed Marai Masato's old school techniques to create her own style. Between us we create our own style but on solid traditional Japanese techniques.