Learn shibari, not just ties
Shibari can be some much more than a pretty means of restraint. Ties are like sex positions. It's not about the position; it's all about how you get there and how you do it. Other schools might offer a bewildering 'phrase book' of ties but we teach you how to become fluent in the language of rope. We offer a wide range of step-by-step courses for shibari enthusiasts, from beginners to experts, that teach you how to tie creatively and with connection.

Our flagship course, the "Introducing Shibari: Mega-Bundle," is the perfect starting point for beginners or anyone wishing to broaden their skills and master connective tying. This structured course, priced at $18/month (+tax), is unique in that it teaches not just random ties, but explains the 'ingredients' used to create them, guiding you to tie with passion, expression, and creativity.
For those seeking advanced shibari techniques, our "Suspension: Mega-Bundle" with over 19 hours of content, taught by Esinem and Nina Russ, is the answer.

Our courses are taught by world-renowned experts, including Osada Steve, acknowledged as a kinbaku master and a significant figure in introducing shibari to the West. Our teachers, who have received tuition from revered Japanese shibari masters, bring a wealth of experience and knowledge to your learning journey.

For those looking to explore other areas of BDSM, Vicky Caves' of Bondatrix will show you how with tutorials on subjects from impact play to mumification to sensory play.

We have something for everyone, no matter your level of experience. Our tutorials, available by subscription or purchase, will take you from the first steps to being able to tie up your partner erotically with confidence. Our mission is to show you the "how" and "why" of shibari, beyond just knots and patterns, using our easy-to-follow ingredients-based approach.
Experience the real magic of shibari, where the rope is used as a tool of communication, an extension of your hands and intent. Start your shibari journey with us today and benefit from our expert teachers, comprehensive courses, and unparalleled experience, all from the comfort of your own home.





Shibari for beginners to experts
Discover the art of shibari made easy with our expert-led tutorials.


No matter where you are in your journey, we have expert-led tutorials to help you learn shibari. For beginners and intermediates, the "Introducing Shibari: Mega-Bundle" offers 33+ hours of introductory tutorials for just $18 per month. This comprehensive course will guide you through the first steps and give you the confidence to tie up your partner erotically.

Advanced: Suspension bundle and tutorials

If you are moving beyond shibari basics, we have plenty of courses and classes, including the new 'Suspension: Mega-bundle at only $25pm, a 12-part suspension course and, advanced techniques from Osada Steve

Learn connective shibari, not just patterns

Our goal is to help you understand shibari as more than just knots and patterns. With our innovative "ingredients-based" approach, we make it simple for you to learn how to tie and create safe, passionate, and creative bondage. Our multi-media guides are comprehensive yet easy to follow, and will provide you with specific bondage ties and ideas to further your development. By studying shibari with us, you'll learn how to use the ingredients to create your own unique ties.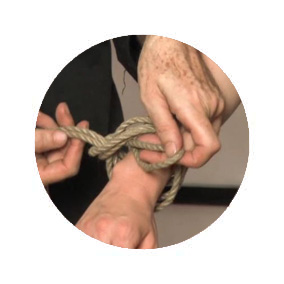 If you want to start learning shibari or have had some bondage lessons but want to really explore the full potential, 'Introducing shibari: Mega-bundle is the place to start. It's a structured course for only $18 per month. We will show you how to use a few simple building blocks to quickly learn creative and erotically powerful bondage. You will discover that the secret of shibari is not is what you do but how you do it.
Of course, you can simply take all the courses in this bundle individually if you prefer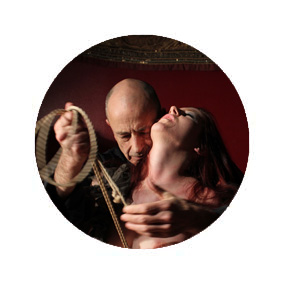 Further shibari study
These tutorials and courses are designed to either build on the skills learned in the beginners' section or, if you have already learned some ties, to add finesse and efficiency to your tying. You won't merely learn ties but also how to maximise the effect of your tying by making the rope a tool of communication.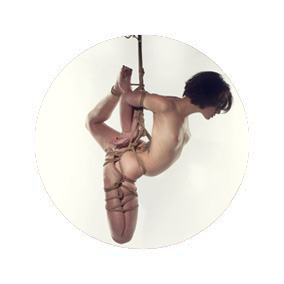 Learn shibari suspension
For advanced shibari students, this section includes the new mega-bundle, a full 12-part suspension course, plus a number of tutorials for suspensions and progressions. Following our philosophy of teaching 'ingredients' and engineering of ties, you will learn techniques that can be adapted to your partner or the situation, rather than just learning a set 'recipe' by rote.

Experience is priceless
Our teachers didn't learn yesterday so can share their unparalled experience with you. All have received tuition at the highest level from some of the most revered Japanese masters including Akechi Denki, Yukimura Haruki, Kazami Ranki, Kinoko Hajime and Nawashi Kanna. Osada Steve, whose tutorials we offer, acknowledged as a kinbaku master himself, is undoubtedly the most significant figure in introducing shibari to the west. In short, you will find the best tuition here, both in terms of the teachers and, also, in the depth and breadth of their material. To acquire this knowledge first-hand would otherwise need an investment of many $1,000's in tuition fees and travel costs. Imagine benefitting from all that experience for a fraction of the price, at your convenience, from the comfort of your own home with our tutorials.
Our other teachers include Kitty Rea, Cabi and Kimokawaii, Mistress Absolute and Frank Van Der Velden.
The magic ingredient of shibari
There are many different interpretations of shibari, ranging from creating Japanese-inspired patterns to the way Japanese masters are tying. All our teachers learned from the latter so firmly believe that the real secret of shibari is all in using the rope as a tool of communication, an extension of your hands and intent. Skillfully used, even a single rope can create a deeply connective and profound experience for you and your partner. Most tutorials only teach patterns but the magic is all in how you do it. It's not about knots. Like good sex, it isn't a question of just following steps, It's your skill, passion and understanding of your partner.
We don't want you to miss out on essence of shibari, which is why we teach tying people, not parcels. It's time to invest in your skills and your partner's pleasure. If you doubt this for a second, take a look at our testimonials.
"I completed the course and loved how well the reasoning behind each movement was explained, rope efficiency and how the energy is transmitted through the rope. It's IMPRESSIVE!!! I can't wait to complete the next 2 courses for the same subject and soon ALL the courses"
How do you choose where to learn shibari?
It can be confusing. After all, there are teachers popping up everywhere, each claiming to be a master. So, how do you choose? First off, look for evidence of skill in the style you are looking to learn. If somebody is good enough to teach, their work should be good enough to post on-line for all to see; not just a couple of pictures, look for a solid body of evidence. Ideally, you should also see them work live or on video, as almost anyone with basic skills, given sufficient time, can make a tie look good in a studio picture or two.
The most important factor should be, of course, whether they can teach you how to tie with connection. That is the real skill in shibari, which makes a world of difference to your partner.
"I was actually able to get my princess into subspace with rope for the first time using the techniques you taught in the videos" 
BDSM
Despite the label, ShibariClasses isn't just shibari tutorials. We know a lot of rope fans enjoy, or would like to explore, other areas of kink. We have an ever-growing range of BDSM tutorials from vacuum beds and mummification to all forms of impact play. If you are not sure where to start to learn BDSM, Vicky Caves and Mistress Absolute, both experienced dominatrixes, explain everything you need to know.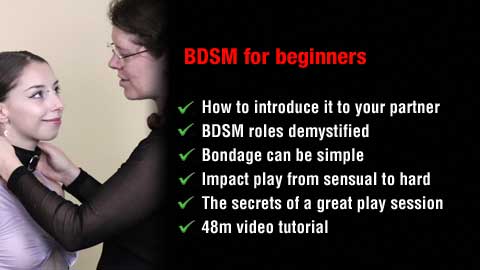 Whether you are a complete beginner wondering how to learn BDSM or just wanting to add to your repetoire of kinky play, we have something for you. Start here.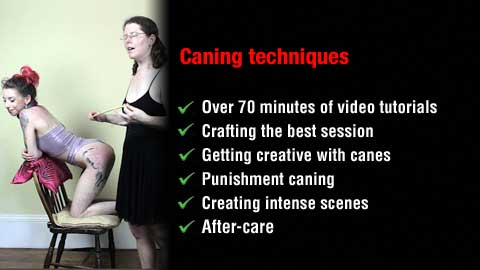 The sensual and sadistic joys of crops, floggers, paddles, canes and, of course, spanking. Vicky Caves is a very experienced educator who also makes impact play toys, so you can be sure she knows the subject. Start here.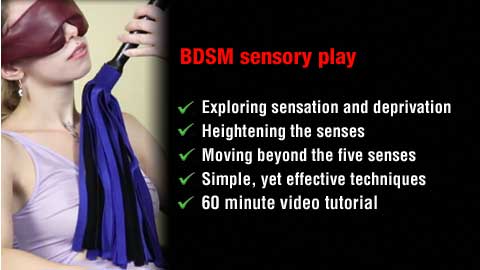 BDSM doesn't have to involve pain, it can also be about delicious, heightened sensations and being sensually teased. Explore the realms of the senses through sensory play, mummification and vacuum beds. See all tutorials.
Any questions?
I'd like to answer a few of the questions you are likely to have, addressing some of the challenges to learning shibari and explaining the advantages of our way of teaching.
Click on the headings below for answers.
Shibari looks very complicated at first sight, doesn't it? We will show you that it isn't. It is really only a question of using a small set of ingredients with some slight variations and simple rules, so it suddenly makes sense. We will give you the foundations that will allow you to build your skills very quickly and become creative and flexible by mixing and matching these ingredients; like a master chef but with rope
Real life classes are great. We have attended many over the years. However, the actual takeaway content is small in relation to the price, since much time is spent practising or waiting for the teacher to get around many students.
To get any real value, you need to be able to remember the minutae. I have all too often found that I have forgotten a lot by the time I come to practice what I learned. The result is that one can waste time and ingrain errors by practicing these mistakes. As Nina says, "Perfect practice makes perfect". I have frequently had students proudly show what they thought they had learned at the last real-life class, only to find they remembered imperfectly and, so, we have to waste time undoing those mistakes. With a video tutorial, you can re-run them as often as you like without the fear that you are holding up a class or looking stupid in front of others.
There are some fantastic YouTube videos but there are also some that are, at best, poor and, at worst, dangerously incompetent. The problem is knowing which is which, especially if your knowledge is limited. Most are just demonstrations with little explanation behind them and showing little detail.

We explain exactly how and why we do everything, showing close-up HD video of the detail so you can easily understand and learn everything right down to finger movements, which make your tying smooth, effective and efficient. Another big difference is the detail and depth of our teaching. We teach the 'why behind the tie', so you don't just learn a pattern but also an essential understanding of the engineering to help you tie more creativively and safely.
In short, no. Although, both Nina and I draw heavily from the Japanese masters. It is a mixture of the best styles and techniques, a sort of very individual Pick'n'Mix. My main influence has been Osada Steve, who first made shibari accessible to westerners, although I have taken tuition from many of Japan's best-known nawashi. As I said to Steve when I started learning, "Don't be offended if I take lessons from others. My goal not to become an Osada clone but to develop my own style taking elements from many". This approach allowed me to identify the rules and elements common to shibari, leading to our ingredients-based teaching method.

Whilst I have mentored Nina with my Osada influence, she is fiercly individualistic and very analytical. As a perfect counterbalance, she has meticulously analysed Marai Masato's old school techniques to create her own style. Between us we create our own style but on solid tradition Japanese techniques.