The place to learn shibari and improve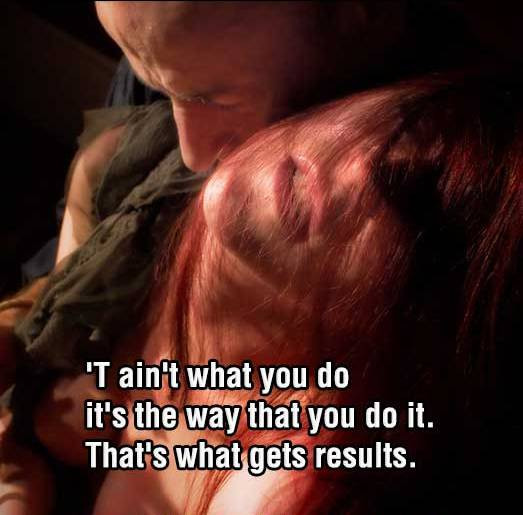 Welcome to our on-line shibari school
Welcome to ShibariClasses, our on-line Virtual Dojo, the place to learn Japanese rope bondage and improve your tying skills. Firstly, let us introduce ourselves: Your teachers, Bruce Esinem and Nina Russ, have a passion for Japanese rope art. We want to share more than 25 years combined experience, revealing the techniques of the professionals and showing how much more you and your partner can get from this art.
If you have come here as a complete beginner and are still at the stage where you are not even sure exactly what it entails, this link answers the question: "What is shibari?".

It doesn't matter where you are in this journey, we have tutorials for you. They range from introductory material like 'Shibari: The Easy Way' which will take you from the first steps to being able to tie up your partner erotically with confidence right the way up to our 12-part suspension course.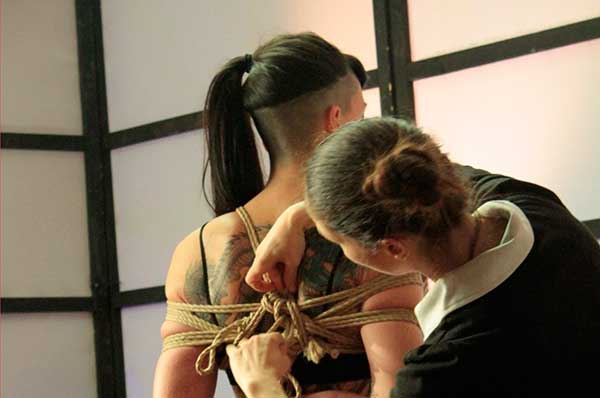 Making learning to tie simple
Our mission is to make shibari easy by 'teaching you to fish', rather than merely presenting you with one. We do this by providing very comprehensive, yet easy to follow multi-media guides, which will help you to tie safely with passion and creativity. Of course, we will give you many specific bondage ties and ideas as well.


The How and the Why of shibari
We go far beyond the usual basic 'paint by numbers' demonstrations that you might have seen elsewhere. Our unique 'ingredients' based approach shows you the 'how' but also, most importantly, explains the 'why'.The tutorials include the important subtleties that help create feeling and psychological impact. With this knowledge, you will discover how to do this with greater confidence and gain the expertise to spot and correct your own mistakes.

"I completed the course and loved how well the reasoning behind each movement was explained, rope efficiency and how the energy is transmitted through the rope. Its IMPRESSIVE!!!"

"Very impressed with the intimate, subtle, and intellectual approach I've found with this course; I am more than pleasantly surprised. I'm greatly looking forward to immersing myself in this truly wonderful way to bond with people and developing a sense true touch and fluid proficiency."


Connective rope: 'Tying people, not parcels'
Nina and I will show you that shibari is not just about knots but all about the way you use the rope to please your partner, how it can be a tool of communication and an extension of your hands...and will. As the one who coined the expression 'tying people, not parcels' and was preaching it before some of today's teachers had even picked up a rope, you will be getting this advice for all those year's experience first-hand and undiluted.
We believe you will be surprised how much our tutorials will improve your tying and understanding of this art. You will learn things that might take you years to discover otherwise. To quote a recent student:
"I was actually able to get my princess into subspace with rope for the first time using the techniques you taught"


In addition to transforming the way you tie, you will gain confidence and dominance because you will possess demonstrable skills and in learning these, you will also build self-discipline. This will focus you in the present and therefore expand your awareness. A chain of events that can only benefit you. This is common to many of the martial arts and, of course, shibari's heritage is in hojojutsu and samurai techniques.
We feel sure you will be as delighted as our other students; see what they say. In fact, we are so certain you'll be completely happy that we offer a money-back guarantee.
With free shibari classes, previews, our guarantee of satisfaction and monthly fees from the price of a coffee, what's stopping you?



Any questions?
I'd like to start by answering a few of the questions you are likely to have, addressing some of the challenges to learning and explaining the advantages of our way of teaching. Click on the headings below for answers to these questions.


How can I tell if you know what you are talking about?
This is always a difficult thing for a beginner to assess, especially for the inexperienced. I suppose like anything a good CV is a starting point. You can find ours here.
Who taught the teacher? My interest in shibari stretches back over 15 years and it is now over 10 years since my first visit to Japan for tuition so I was one of the west's early-adopters and have always been an evangelist of 'tying people, not parcels'. Nina and I have both been exposed to the teaching of many of Japan's most respected masters including Yukimrua Haruki, Osada Steve, Arisue Go, Naka Akira, Kazami Rank and Kinoko Hajime.
Do you like the teachers work? Can you see them actually tying or just a couple of carefully posed studio shots? See if you like ours on Esinem.com and NinaRuss.net. If that's how you'd like to tie, this is the place to learn.

How do I know you can teach?
OK, so you can't fault our CV but can we teach? Well, my teaching experience stretches back over a decade with hundreds of students and has included authoring the ground-breaking 'Japanese Rope Bondage'DVD set and producing numerous tutorials and articles. Nina has been assisting me for some years and now has her own students but also brings valuable experience from both sides of the rope as former model and now rigger. Of course, we have an ever-growing number of students right here with well over 3,000 enrolled which speaks for itself.
With free previews, you can see if you like the way we teach before enrolling and after there's a 100% money-back guarantee. Can't say fairer than that.
Nina gets some first-hand shibari tips from Kazami Ranki
Ultimately, it is for our students to judge and you can see what they have to say on the testimonials page.

I was actually able to get my princess into subspace with rope for the first time using the techniques you taught in the videos - Nerdy_Sir
Your tutorials are a great resources for anyone new to shibari - WannaRigher
Isn't a real life bondage workshop better?
It's true that competent face to face teaching can help with a lot of things, e.g. actually feeling tension, physically guiding you, and is highly recommended but it is not the answer to everything. That said, we have no problem demonstrating tension on video. After all, it's no different from showing it in a live class. I suspect those who say it's not possible just need to improve their teaching techniques. At worst any tuition, it can be the blind leading the blind as some teachers have negligible experience having only just learned themselves and, at best, you might miss or forget things. I certainly do. I need a way to make sure I remember and practice the right thing. The trouble is, if you are fiddling with a camera phone or have your head in a notebook, you won't be paying attention. You can't win. In contrast, our courses allow you to re-run instructions in clear, close-up HD video, which will be way better than anything you could shoot on your phone, as many times as you like. You won't hold up fellow classmates, worry about looking like a dunce or test your teacher's patience by doing so.
Our on-line courses are a great resource if you are beset by time constraints or just have a problem getting to a class as ours can be accessed anywhere, anytime. Most of our course fees wouldn't cover your bus fare or parking.

Of course, in a live class, you can ask your teacher and get an answer. The good news is you can ask us either via our 'Q&A: Ask the teacher/s' forums, live discussion or even provide live video mentoring.This also means we can even answer those questions you only think of on the way home after the workshop or add an important point we might have over-looked in a lesson or even up-date techniques.

On balance, your best route is a combination of good 1-2-1 instruction backed by preparation and revision using ShibariClasses tutorials and courses. In that way, you go to classes prepared so progress faster and more efficiently but also have an aide mémoire to fall back on so you don't ingrain mistakes through practice. Of course, Nina and I both offer 1-2-1 tuition here in our London studio so we can provide a comprehensive package. You can find information on my classes here and Nina's here.
If you are determined to go it alone, our tutorials are an excellent option since you can rely on the pedigree of the teaching and you always have to opportunity of asking us for help and clarification. When I started, over 15 years ago, there were almost no resources for self-learning and so much of what we did was trial and error. If I had had access to anything a fraction as good as this site back then, I would have progressed so much faster, become a much better rigger and, hopefully, avoided a couple of nerve injuries..

Why not just use free shibari tutorials on YouTube?
There are undoubtedly some excellent free video tutorials on YouTube and the like. I even add some worthy ones to the tutorials here. However, there are also some that are a complete liability. In fact, I'd even say the same about certain books. Assuming you are discerning enough to find a good one, it will be just a video tutorial. It will probably be short, not very clear and lacking important details. Rarely, do you get an explanation of how and why the tie works, it will most likely be simply a demonstration of the steps.
In contrast, we explain the how and why with precise step by step instructions with professional quality video, complemented by notes, articles, links and other relevant videos to give you a really complete understanding. It's one thing seeing a tutorial and quite another seeing a pro using it in a live situation, for example. Furthermore, we update and enhance the material and, as I mentioned earlier, there's the opportunity to ask us questions. I don't believe such comprehensive shibari tutorials have ever been produced, ranging from the on-line version of 'Japanese Rope Bondage: Tying people, not parcels' to our new suspension series.
What's so special about your shibari classes?
Our approach to teaching sets us apart. We have always been intrigued by the potential of rope as a tool of communication, as an extension of our hands...and will. I was among the early evangelists for 'connective tying', something embodied in my catch-phrase: 'Tying people, not parcels'. Traditionally, this has been seen as an advanced subject. We turn this on its head. We believe it should be taught from day one, not left until you have committed poor technique to muscle memory.
Far more powerful effects can be achieved with a single rope used skilfully than the inept application of the entire contents of your rope bag. Our emphasis is always on communicating with our partner through the way we tie, as this is the heart of shibari. Of course, as with all skills, there are a few simple pro tricks and secrets, 'urawaza' as the Japanese say, that really produce results. You'll find out how to produce 'that specail look' in some surprisingly simple ways ;-)
Isn't shibari really complicated?
You'll discover learning shibari actually rather simple when we help you to understand a few basic ingredients and how to use them. Yes, it can seem complex if all you do is learn recipes. This also tends to lead to a rather robotic and non-creative mode of tying that I call 'painting by numbers'. No tie is a recipe for ecstasy. Like cooking, it is all in how you do it.
In our tutorials, we show you these key ingredients and how and when to use them. You will quickly appreciate how these are the foundations of everything you do from the most simple limb tie to the most elaborate suspension. This means you will gain the confidence to be more creative but also have an understanding of the engineering which will help you spot mistakes. A great starting place for beginners is the 'Tying techniques & rope handling' trilogy: Parts I, II & III, although I'd be surprised if advanced riggers didn't pick up a few tricks.
Do you teach a specific ryu (school/style)?
If you have researched the subject, you will have discovered there are many things that fall under the term shibari. These range from western bondage influenced by Japanese ties, e.g. Lee Harrington, Douglas Kent, to strict adherence to the teachings of a specific sensei, e.g. Yukimura ryu, Osada ryu. We very much appreciate all the Japanese ryu and they all have something to teach us.
However, our aim is to teach shibari following the principals and aesthetics of 'how it is done in Japan' but not to limit ourselves to one kinbakushi's way of tying. Although, their technique and taste, like a photographer or musician, might produce very different results; ultimately, they are all subject to the same laws of physics, constraints of materials and human physique. The ingredients are much the same. This is why we show you why things are done the way they are so you appreciate that you are using versatile ingredients. Once you understand this, you can safely become the architect of your own designs.
As I told Osada Steve during one of my lessons "I don't want to become an Osada clone. Please don't think me disloyal if I draw from others to develop my own way". Both Nina and I have our own styles and we have used what we like best from the many professionals who we observed, studied with or have been our house guests. In that way, we hope we have done a lot of the hard work of 'panning for gold' for you to bring you some of the secrets. It also means that we can help you develop your own creativity and unique style through our ingredients-based approach. Why not fully express yourself through rope, rather than only learn to be a tribute band doing covers by rote?