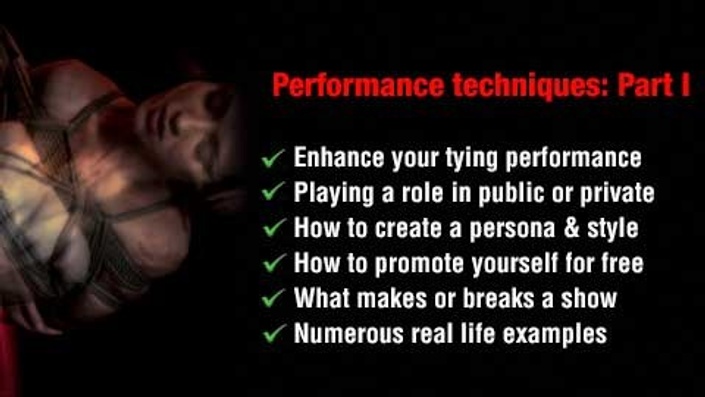 Performance techniques: Part I
A course for everyone, regardless of whether you 'perform ' for your partner or the public
Watch Promo
Welcome to the 'Performance techniques' series. This series is for everyone and is designed to improve your performance in both senses of the word. Whether you are on stage or tying your lover, it is always a performance in that you want to perform that activity to the best of your ability. On stage, you are also performing a role to an audience but, in private, you and your partner are both performers and audience. Regardless of who you are tying for, this course will improve your 'performance'.
Between us, Nina and I, have done countless sessions, 100's of gigs and many prestigious commercial jobs. In fact, I was quite shocked to find photos of my first performance dated last millennium so that makes me something of a veteran of the circuit. Consequently, we have learned a lot from that and from watching many of the world's greatest shibari performers first-hand which we will share with you. This means you don't have to learn the hard way or make the same mistakes.
It will improve both your tying and your chances of success and, if it's your goal, to make money. Of course, the main thing is to have fun but it can be very lucrative. There are many times that I have earned more in a few hours than the average person does a week. – but sadly, not every week! Nevertheless, it did allow me to pack in my day job by making rope my career and give me the freedom to follow my passion. Isn't that everyone's dream? What I can promise is a lot of fun, some great opportunities, meeting interesting people and plenty of travel. Don't blame us if you run away and join the circus!
In the series, we'll explore how you can make a great performance and how little things can make all the difference using real examples from shows. You'll learn the single most important thing that makes an impression, regardless of whether you are with your partner in an auditorium, and we'll point out some of the needless errors almost every beginner makes. We will guide you, step by step, through the minefield of planning and creating a show. There will also be in-depth critiques of advanced performances explaining the elements, what was strong and how improvements could be made.

This course is very comprehensive because success as a performer is a lot more than knowing how to tie. For this reason, you should take care to study and analyse all the examples in depth and, of course, practice. Reaching your potential takes time and effort but we believe it will be a lot faster and easier with this course..
Part I
In this first part, we'll take you right from getting gigs, creating a persona and Internet presence, marketing yourself in this increasingly competitive area, playing a role and all the practicalities. In the process, we will give you many real world examples from top performers which will teach you invaluable tips and hints on performing and tying technique.
Don't worry if you don't have a clue how to market yourself or have little or no budget. I'll show you how to promote yourself almost entirely for free without much technical knowledge or effort.
The experience we will share is priceles but you'll save the price of this course in hard cash by just following a couple of bits of advice. In fact, we will point out mistakes that could cost you hundreds and others that could even bankrupt. You'll also avoid wasting countless hours scouring the netas we provide copious instructions and explanations for every step.
This is your first step in becoming a successful performer in every sense of the word.
Your Instructor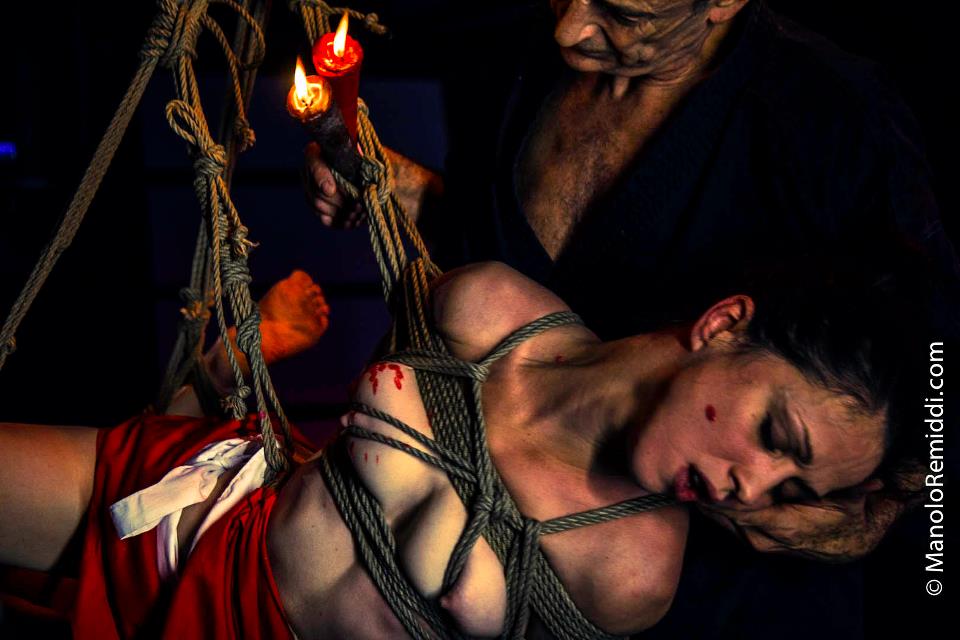 Esinem is a shibari artist who has regularly appeared at UK and international events such as Pride, Torture Garden, Erotica, Rubber Ball, Wasteland, Boundcon, Nuit Demonia and recently represented the UK at Japan's first international kinbaku event, Toubaku. He is also known for his teaching both in the UK and internationally and was co-organiser of the London Festival of the Art of Japanese Bondage and BOUND, Europe's premier monthly shibari event.

Over the last few years, he has been improving his skills in Japan with the help some of their best known and respected kinbakushi, Arisue Go, Osada Steve, Kinoko Hajime, Kazami Ranki and, grand master of newaza, Yukimura Haruki. Whilst drawing from classical methods, his style is distinctive and epitomizes the art of communicating with rope, often departing from the typical serenity of shibari shows and flying in the face of tradition to produce some striking and unusual performances.

In addition, he has worked on various videos, e.g. Primal Scream's 2013, artistic collaborations and photo shoots both on and off camera. He has been involved in projects providing inspiration for Tom Ford's 2013 collection and, Raqib Shaw, an acclaimed artist who has exhibited at the Tate, Metropolitan and White Cube galleries.

He contributed to Rope, Bondage & Power, edited by Lee Harrington and is currently involved with a number of documentaries on kinbaku. He is also author of the first English language tutorial DVDs: 'Japanese Rope Bondage: Tying people, not parcels'.


Nina Russ is a London based, shibari performer, rope artist and educator. She became student of Esinem in 2011 and their collaboration gave birth to BOUND shibari night (2012) and ShibariClasses (2015). She had also the fortune to participate at workshops with different Japanese shibari masters, like: Kazami Ranki, Yukimura Haruki, Kinoko Hajime.

She has performed internationally, most notably at the London Festival of the Art of Japanese Rope Bondage and RopeFest in St.Petersburg. In addition, she participates in numerous artistic, fashion collaborations and local performances. Her passion for rope has lead her on a route of discovery of concepts, philosophy, aesthetics and benefits behind this Japanese discipline.

She sees shibari as an art form which creates deep connection between the participants and also aids personal development. Due to its martial arts roots, it brings self-discipline, efficiency, effectiveness and, thus, growth in confidence and awareness. She believes these skills allow a greater focus on the most important aspects: you, your partner and your shared experience.
Course Curriculum
Introduction
Available in days
days after you enroll
What next?
Available in days
days after you enroll
Frequently Asked Questions
How long do I have access to the course?
The course starts now and runs for a whole month! It is a completely self-paced online course - you decide how fast you go and how much you revise. Subscriptions renew automatically until cancelled.
When does the course start and finish?
The course starts now and each part runs for a whole month! It is a completely self-paced on-line course - you decide how fast you go and how much you revise.
What if I am unhappy with the course?
We would never want you to be unhappy! If you are unsatisfied with your purchase, contact us in the first 7 days and we will give you a full refund.