Help
The site is very easy to navigate. You'll see some instructions at the beginning of the course as the first item. You can also post non-urgent queries in the course discussion forum also in the first section of the course.
This article goes over how you can contact your school owner if you have any questions about your Teachable experience, as well as some common technical troubleshooting procedures.
Contacting Your School Owner
While there are multiple ways you can contact your school owner as a student, we recommend using Teachable's native contact form for students. To access the contact form:
Log in to your school account (it does not matter if it is a myTeachable account or not).
On the top-right side of your navigation bar, click your avatar. This will open a dropdown menu.
Click Contact.

On the Contact page, fill in the Subject and Message fields—similar to how you would fill out any other email.
Once you've finished your message, click Send. This will send your message as an email to your school owner's email address.
If your school owner replies to your message, it will be sent to your email address; from there, you can continue the conversation as needed.
Troubleshooting
If you are having technical issues, there are some standard troubleshooting procedures we recommend. For more information, take a look at this article on common troubleshooting procedures.
Can't login or retrieve password
This is a really common one and is inevitably caused by creating duplicate accounts but with different email addresses. Try logging in with your other email address.



Managing/cancelling subscriptions and your profile
On the top right of the navigation bar, you will see the Profile icon (highlighted) which provides your management options.


You can edit and manage your profile, subscriptions and credit card:

Lost password
OK, so the password was totally memorable...at the time :-) No problem, just use the Forgot Password link below the login.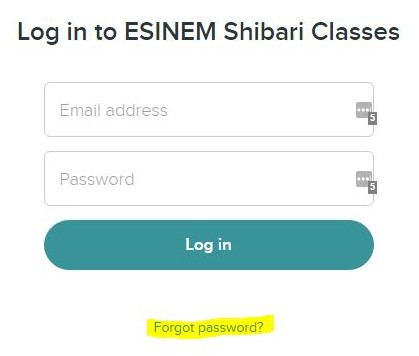 IOS app

An app has now been introduced to give you access via Apple Mac mobile devices.You'll find everything you need to know, including a download link here:
Using the iOS App as a Student


MyTeachable accounts

MyTeachable accounts are a way to make your user experience more simple and efficient. Before, students had to create a brand-new account every time they wanted to take a course on a different Teachable-powered school, which was frustrating and time-consuming (and confused password manager tools).
The solution to that problem is myTeachable accounts, which make it easy to enroll in any myTeachable-enabled school with just one or two clicks. If you already have a myTeachable account, that's all you'll need to continue on a myTeachable-enabled school: no new accounts necessary. You can enroll in as many courses as you like, and be able to access them all from your central dashboard at my.teachable.com.